Quick Links
Where To Find The First Ice Cream In Aliveal Mall (Staff Side)
Where To Find The Second Ice Cream In Aliveal Mall (Staff Side)
Where To Find The Third Ice Cream In Aliveal Mall (Staff Side)
Kirby And The Forgotten Land's penultimate zone, Originull Wasteland, features various stages set in a hazardous desert region. The fourth stage, Aliveal Mall (Staff Side), offers a sandy twist on an earlier stage in the game: in this version of Aliveal Mall, you'll have to use Kirby's mouthful mode to safely traverse the abandoned mall and free the captured Waddle Dees.
For players looking to complete all the stage's optional objectives, you'll also need to 'taste test' three different types of Ice Cream that are scattered throughout the mall. These ice cream items aren't too difficult to spot but might be tricky if you're unfamiliar with the layout of the stage. Follow our visual guide below to find them all.
Where To Find The First Ice Cream In Aliveal Mall (Staff Side)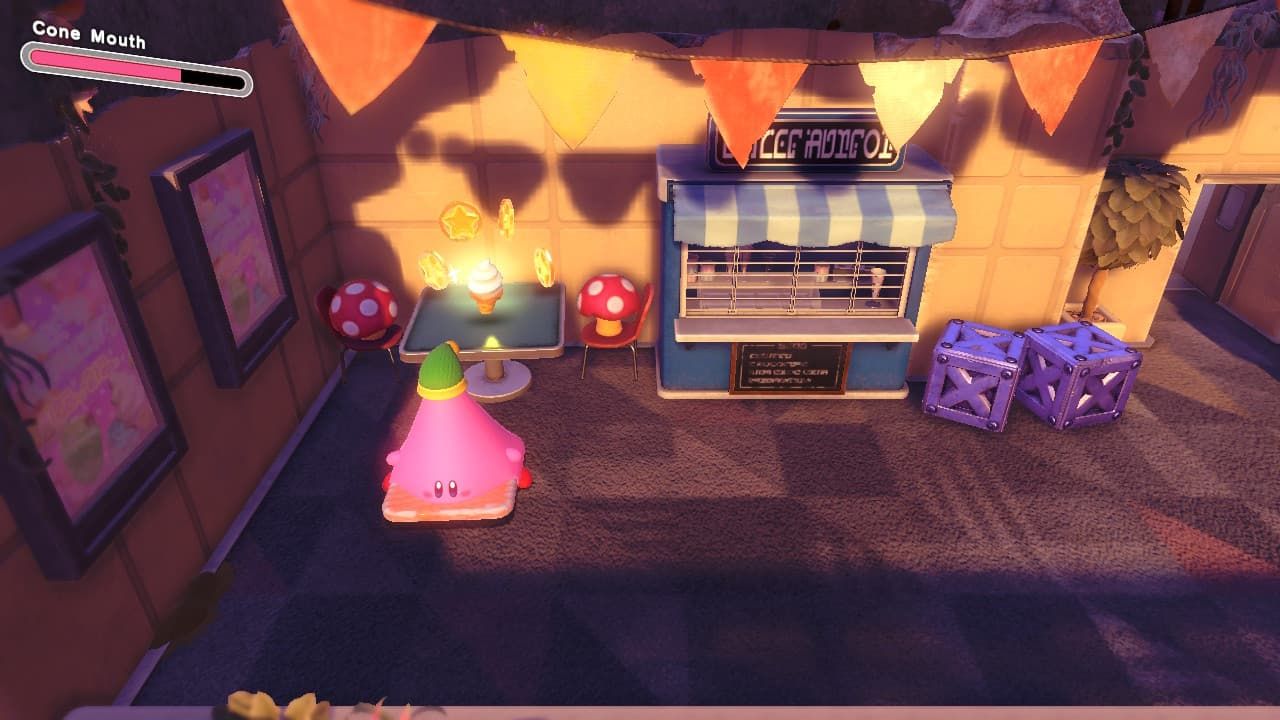 You'll find the first ice cream on the stage shortly after the beginning after you turn the first corner by going through a doorway. To the left of the door, next to some metal crates and a small shop front, you'll find a table surrounded by some aggressive mushrooms. On the top of the table, you'll see an ice cream cone surrounded by coins.
Simply jump on top of the table and ingest the ice cream, and the optional objective will appear on your checklist, showing that you have tasted one of three ice creams.
Where To Find The Second Ice Cream In Aliveal Mall (Staff Side)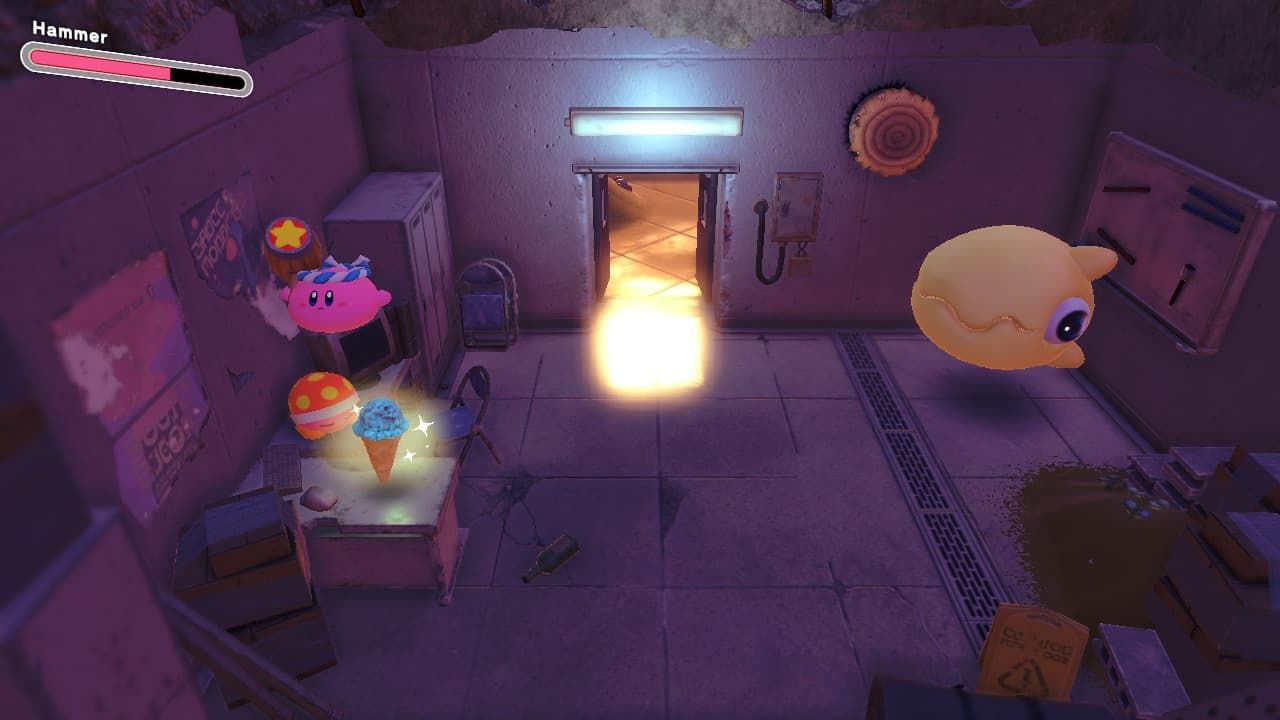 The second ice cream in Aliveal Mall (Staff Side) is found slightly further into the stage, after once again going through a doorway and turning into a hallway section with an orange hue. In this hallway, as you head right, you'll eventually come across a small alcove that has a stack of beige cardboard boxes concealing the entrance to the room pictured above.
After you find this secret room, you should be able to spot the blue ice cream on the table, next to the sleeping enemy. Watch out for the giant orange fish enemy and jump into the ice cream to tick another off your checklist.
Where To Find The Third Ice Cream In Aliveal Mall (Staff Side)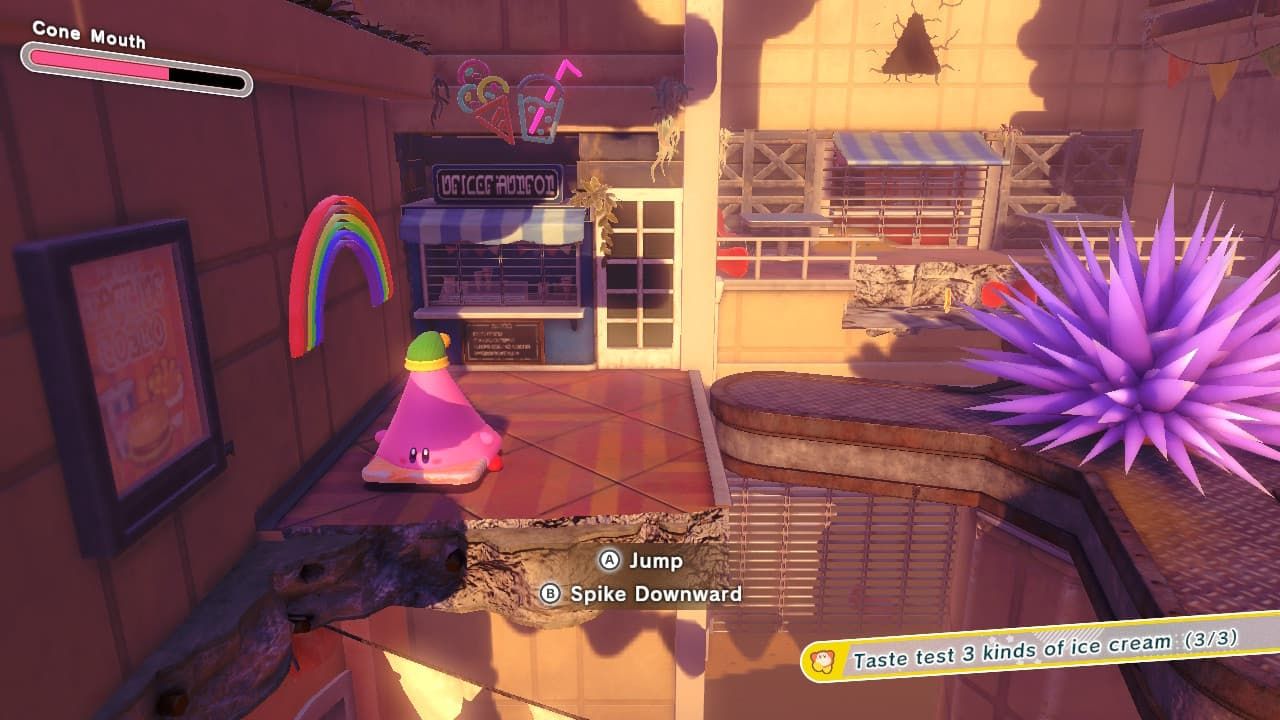 The third and final Ice Cream in Aliveal Mall (Staff Side) can be found just before the end of the stage, on a platform to the left of the second spinning platform in the middle of this area.
Next to the neon rainbow sign on the wall and in front of the ice cream shop front, there will be a cardboard box on the ground. Break it open using one of your abilities to find the final ice cream within. Eat the ice cream by walking into it, which will tick off the objective in your checklist, just before you reach the end of the stage.
Source: Read Full Article