Quick Links
How To Summon Duke Fishron
How To Defeat Duke Fishron
How To Defeat First-Stage Duke Fishron
How To Defeat Second-Stage Duke Fishron
How To Defeat Third-Stage Duke Fishron
Everything You Earn For Defeating Duke Fishron
Defeating every boss is one of the hardest challenges in Terraria, but it's also one of the most rewarding. There are many bosses you can fight inside this base-building video game — some are exclusive to Hardmode, while you can fight others whenever you want.
Duke Fishron is a challenging Hardmode boss who requires a strong strategy to defeat. There are lots of unique items that Duke Fishron drops upon death, so defeating this powerful enemy is essential if you're a completionist. Below you can find out how to summon and defeat Duke Fishron, as well as which items you can expect to earn upon winning the fight.
How To Summon Duke Fishron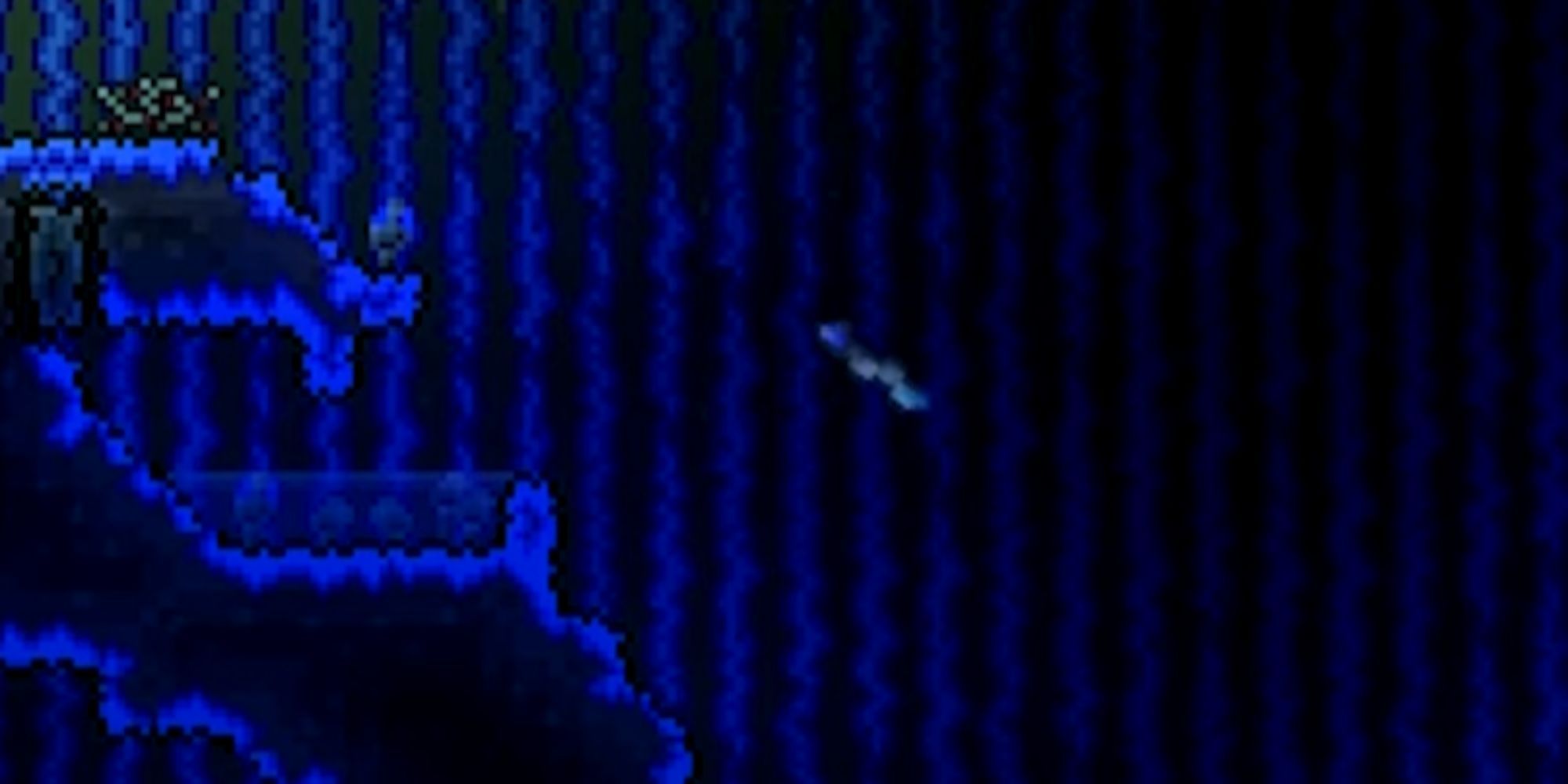 To summon Duke Fishron, your world will first have to be on Hardmode. Next, you need to get a Truffle Worm. You can catch Truffle Worms by traveling into an Underground Glowing Mushroom biome and using a Bug Net, Lavaproof Bug Net, or a Golden Bug Net.
It's only possible to get a Truffle Worm on Hardmode, but you can use it in a pre-Hardmode world. You can see a picture of the Truffle Worm above.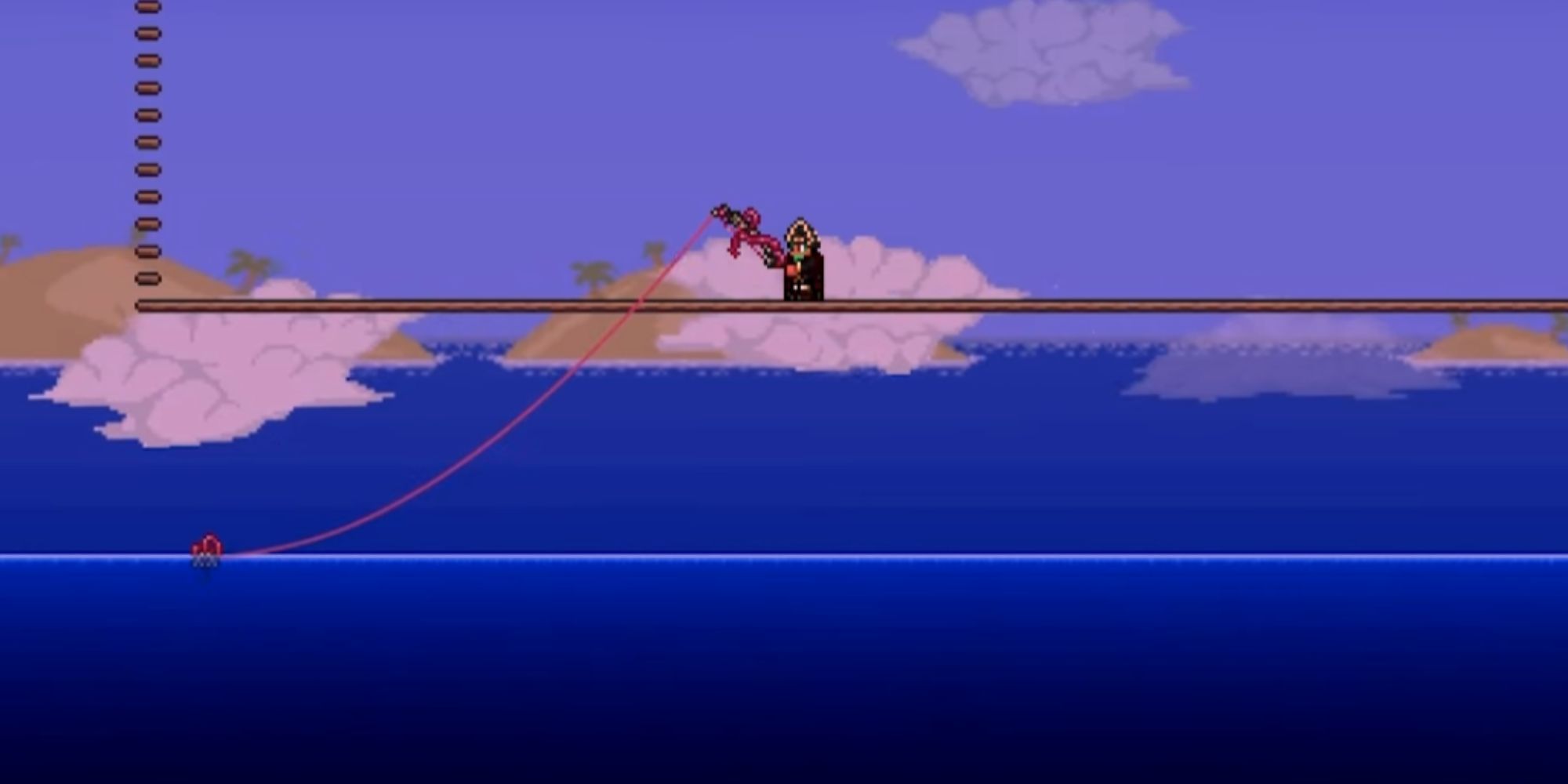 After you have a Truffle Worm, you need to use it as bait while fishing in an ocean. Duke Fishron will spawn when you reel in the line, and you can then start the boss battle. You can summon Duke Fishron before defeating any other bosses.
How To Defeat Duke Fishron
There are multiple stages to the Duke Fishron boss battle, so it's tricky to learn the entire fight for the first time. However, below you can find Duke Fishron's stats, as well as strategies for how to defeat all three of his forms.
| Mode | Health Points | Defense | Enraged Defense | Melee Damage | Enraged Melee Damage | Bubble Damage | Tornado Damage |
| --- | --- | --- | --- | --- | --- | --- | --- |
| Classic Mode | 50,000 | 50 | 100 | 100 | 200 | 100 | 80 |
| Expert Mode | 60,000 | 50 | 100 | 140 | 280 | 150 | 100 |
| Master Mode | 76,500 | 50 | 100 | 210 | 420 | 225 | 150 |
What Equipment Should You Use To Defeat Duke Fishron?
You can defeat Duke Fishron with many gear setups; however, it's easiest to use ranged weapons since he moves through the sky quickly. Guns work especially well against Duke Fishron, too. Additionally, wings are a very useful asset since you can fly up to Duke Fishron and hit him in mid-air, as well as dodge his attacks more easily.
You can find out about the best wings in Terraria in this guide.
How To Defeat First-Stage Duke Fishron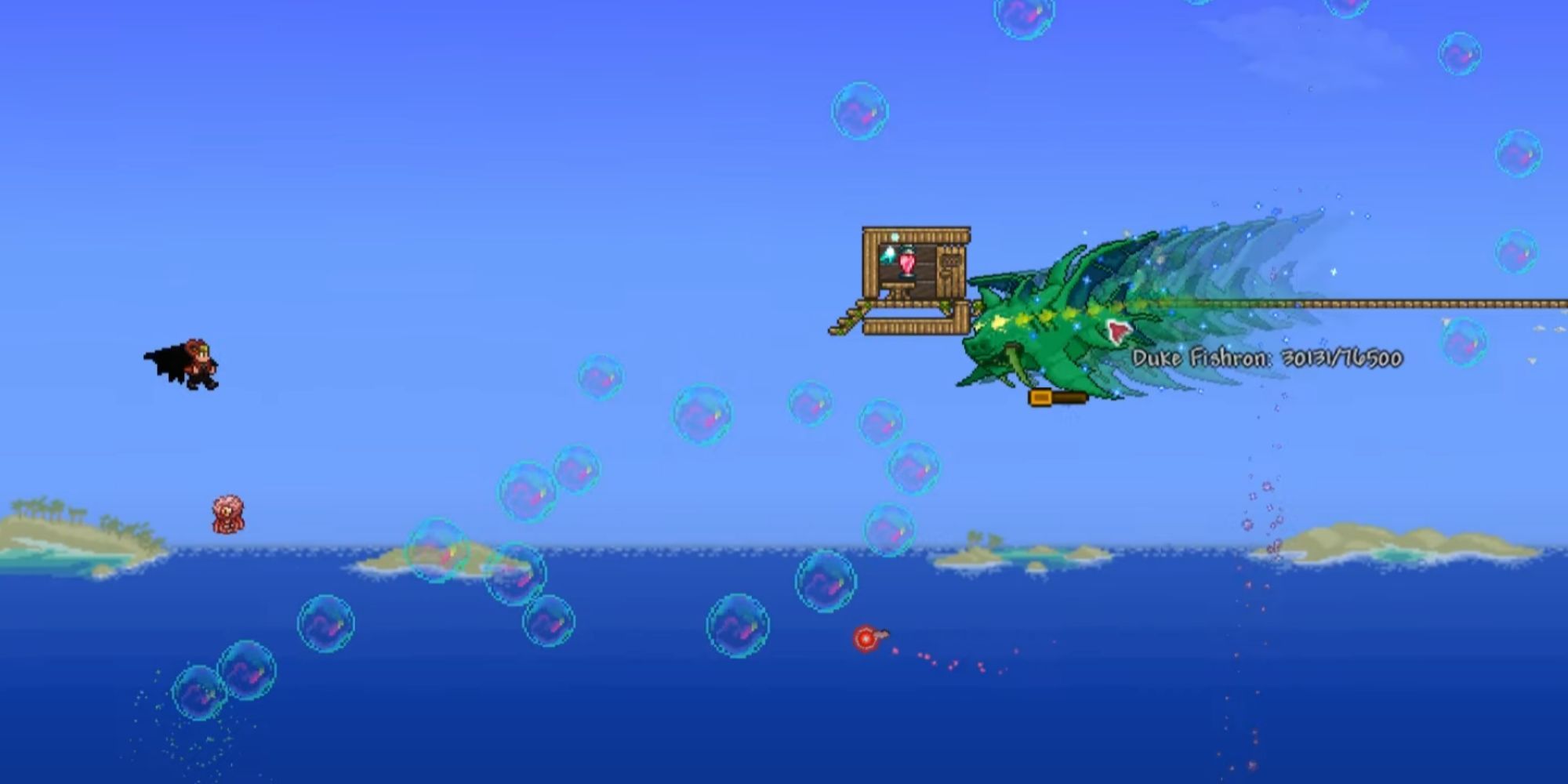 Before summoning Duke Fishron, it's a good idea to build a platform you can walk on above the ocean. You can build this out of Wood Platforms and use it to walk around the battlefield. Bringing a pair of wings to the fight is also useful since Duke Fishron can float in the air and attack you from above.
There are two attacks that this boss can use in the first stage of the fight. First, Duke Fishron can attack you with projectiles by shooting about 15 bubbles at you. These bubbles will follow you around the world, so you need to pop them before they hit you.
Using a ranged weapon to pop the bubbles before they're near you is the easiest way to avoid this attack. If the bubbles manage to hit you, then you'll take damage. You can predict that Duke Fishron is about to shoot bubbles when the boss moves to the top left or top right of your screen.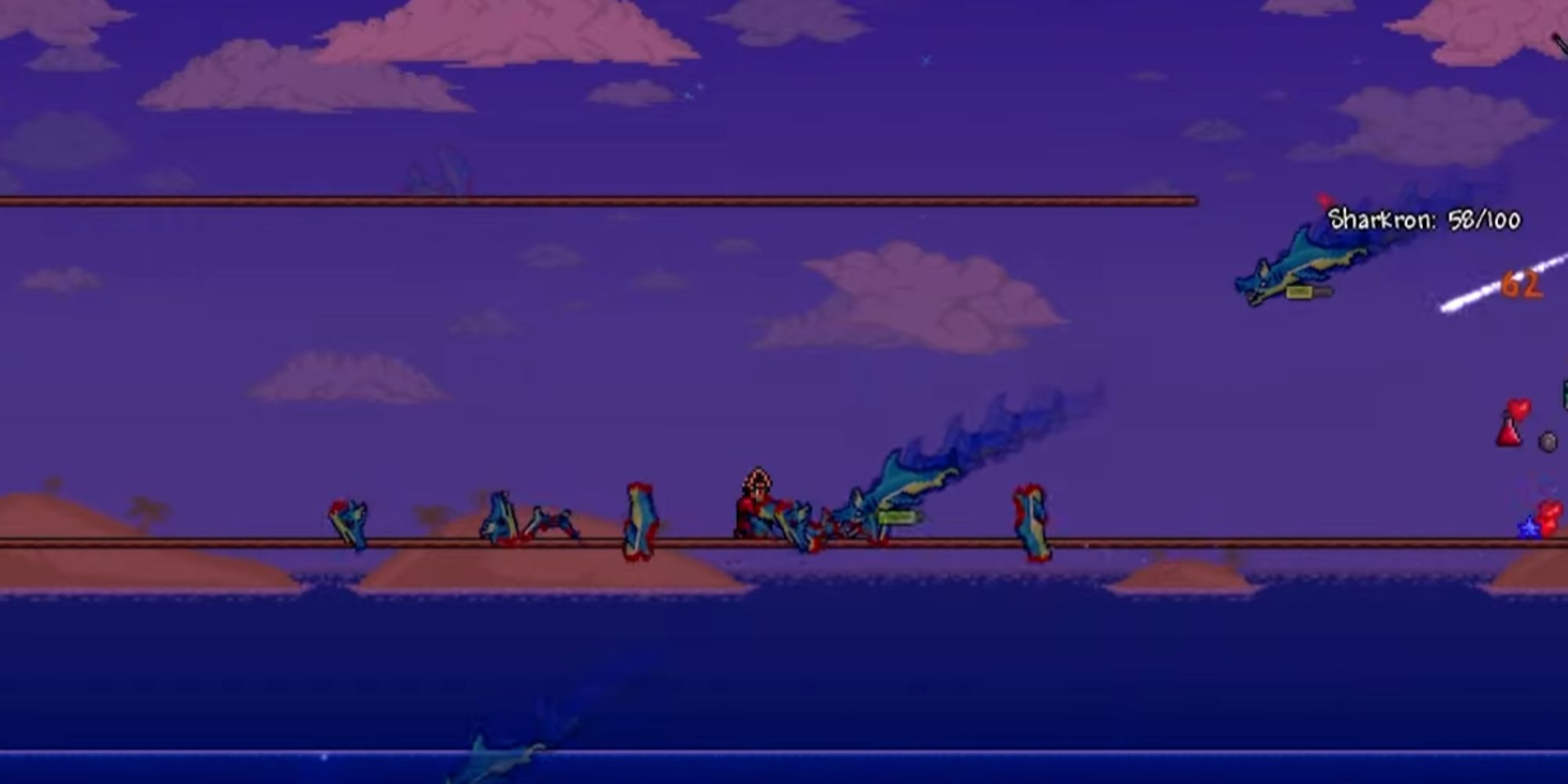 The second attack that Duke Fishron can use is called Sharkron. In this attack, the creature will drop blobs of water, and they'll turn into tornadoes, each shooting multiple Sharkrons that deal damage if the tornado hits you. Similar to the bubbles, you can defeat Sharkrons before they hit you, so ranged weapons are ideal for countering this attack. The Sharkrons also disappear if they hit a block.
While dealing with these two attacks, you should also be dodging Duke Fishron himself. He'll be flying towards you quickly throughout the fight, so you need to use each close encounter as an opportunity to deal damage. Duke Fishron is a very fast boss, so you should stay alert of his speedy attacks at all times.
Ranged weapons make hitting Duke Fishron significantly easier because you don't have to risk getting close to him or timing your attacks. Guns are particularly useful since you can fire them quickly. If you decide to use a melee weapon, try to hit Duke Fishron as it lunges towards you, then quickly back away.
How To Defeat Second-Stage Duke Fishron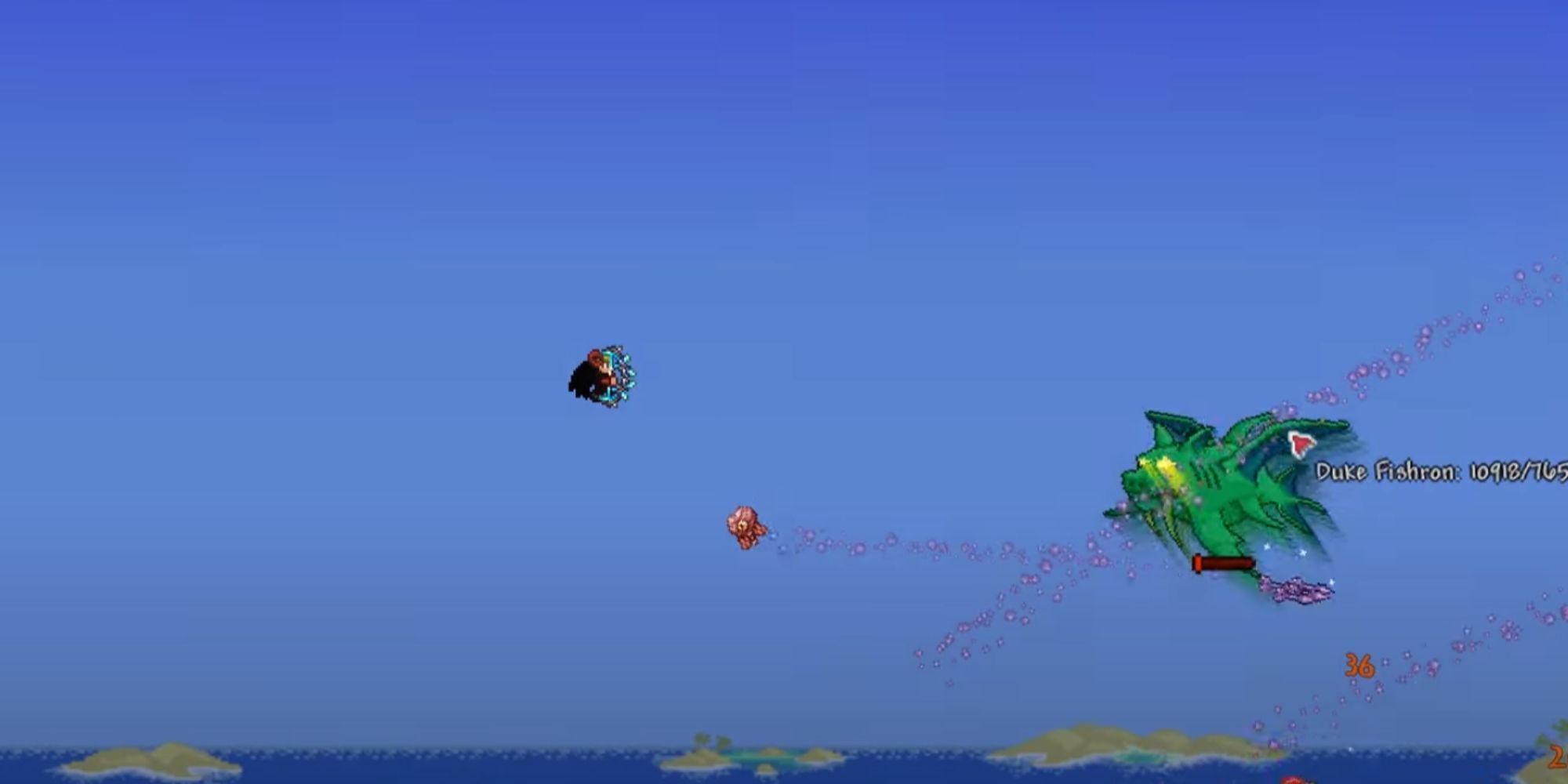 Once you take away at least 50 percent of Duke Fishron's health, he'll enter his second-stage. This stage is the final part of the boss fight if you're playing on Classic Mode. This stage acts similarly to his first-stage, but he's significantly stronger in every way. The boss gains more health upon transforming and also deals more damage. In addition, Duke Fishron becomes faster, so dodging his attacks is harder.
Second-stage Duke Fishron uses the same attacks, but he'll throw more bubbles and Sharkrons at you during the fight. The tornadoes he spawns will also be larger. Dodging each attack is crucial considering the speed at which they're thrown at you, so a pair of wings are significantly helpful during this stage of the boss battle.
How To Defeat Third-Stage Duke Fishron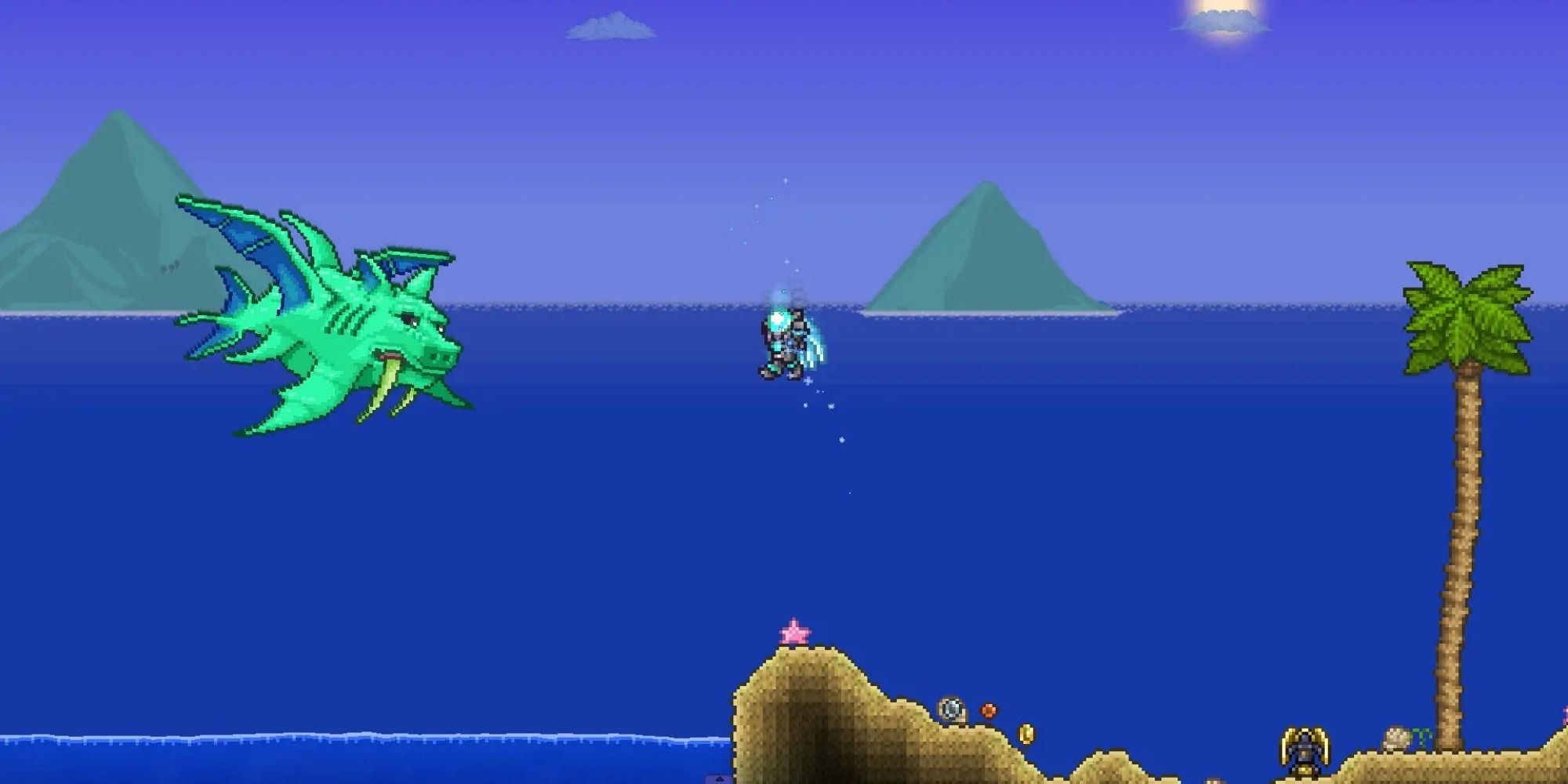 Duke Fishron will enter a third-stage when he's below 15 percent if you're playing on Expert or Master Mode. The greatest challenge in this stage is Duke Fishron's invisibility; however, you can counter it by searching for his eyes, which glow even though he's invisible. Additionally, the background will cover in fog, which may be distracting.
Duke Fishron completely changes the way he attacks once he enters his third-stage. He'll start chasing after you quickly, charging before each attack. Duke Fishron can now teleport during this section of the fight. The easiest way to deal with these attacks is to learn the boss' attack pattern.
First, he will charge once and then teleport behind you. Duke Fishron will then charge at you twice before teleporting again. After the second teleport, the creature will charge at you three times. The pattern then restarts.
Duke Fishron's damage and defense are significantly weaker during the third-stage, so you only have to hit him a few times to win the fight. Use wings to avoid his attacks if possible, and then hit Duke Fishron right before he teleports. If you don't have wings, then you can use ranged attacks to hit Duke Fishron while he's charging at you. Once you defeat Duke Fishron, he'll drop many useful items.
Everything You Earn For Defeating Duke Fishron
Duke Fishron drops many useful items upon death, but some of them are exclusive to a specific mode. Here is every item Duke Fishron can drop on the Classic, Expert, and Master Modes.
| Classic Mode Items | Drop Chance |
| --- | --- |
| 25 Gold Coins | 100% |
| Duke Fishron Mask | 14.2% |
| Duke Fishron Trophy | 10% |
| Fishron Wings | 6.6% |
| 5-15 Greater Healing Potions | 100% |
| Tsunami | 20% |
| Tempest Staff | 20% |
| Bubble Gun | 20% |
| Flairon | 20% |
| Razorblade Typhoon | 20% |
| Expert Mode Items | Drop Chance |
| --- | --- |
| 50 Silver Coins | 100% |
| 87 Gold Coins | 100% |
| Duke Fishron Trophy | 10% |
| 5-15 Greater Healing Potions | 100% |
| Duke Fishron Treasure Bag (This Bag Contains The Items Below) | 100% |
| Shrimpy Truffle | 100% |
| Duke Fishron Mask | 14.2% |
| Fishron Wings | 10% |
| Tsunami | 20% |
| Tempest Staff | 20% |
| Bubble Gun | 20% |
| Flairon | 20% |
| Razorblade Typhoon | 20% |
| Master Mode Items | Drop Chance |
| --- | --- |
| 50 Silver Coins | 100% |
| 87 Gold Coins | 100% |
| Duke Fishron Trophy | 10% |
| 5-15 Greater Healing Potions | 100% |
| Duke Fishron Treasure Bag (This Bag Contains The Items Below) | 100% |
| Shrimpy Truffle | 100% |
| Duke Fishron Mask | 14.2% |
| Fishron Wings | 10% |
| Duke Fishron Relic | 100% |
| Pork Of The Sea | 25% |
| Tsunami | 20% |
| Tempest Staff | 20% |
| Bubble Gun | 20% |
| Flairon | 20% |
| Razorblade Typhoon | 20% |
Source: Read Full Article