Bethesda Game Studios published the latest Inside the Vault blog post for Fallout 76 recently, and with it came a preview of the incoming new Daily Ops encounters. Two members of the Fallout 76 development team poured out the Daily Ops details in written and video Dev Dive Previews of Daily Ops, which is set to begin with Season 2 Update 22 scheduled to go live this September 15.
In both written and video formats, Fallout 76 Lead User Experience Designer Don Etgeton and Fallout 76 Lead Level Designer Steve Massey open the vault and show us what Daily Ops is and what we can expect to encounter with them. The Inside the Vault post also gives us probably the final details on the Fortifying ATLAS event that ends on September 14, the day before we can expect to see the Brotherhood of Steel in the Appalachian territory.
New Daily Ops encounters are going live when the new Armor Ace and the Power Patrol themed Season 2 hits. They're "instanced, randomized, repeatable encounters" we'll be able to jump into solo or with a group. Once you enter an instanced Daily Op mission location, you'll receive mission objectives "that will differ depending on the Daily Op mode." The introductory Daily Op mode is called 'Uplink', and requires you to "secure a series of uplinks that will help you track down and destroy creatures who threaten Appalachia."
While in these Ops missions, we'll encounter a mass of enemies throughout attempting to wipe us out, with these enemies all belonging to one faction (Super Mutants, Blood Eagles, or Robots). However, the Ops enemies will have unique and deadly mutations, unlike what we're used to seeing across Appalachia, and these super-mutated monsters will require a new set of skills and tactics in order to defeat. Of course, when you do, you'll be rewarded with plenty of XP, loot, and in-game currency.
You'll be able to take on Ops alone or with a group of up to four other Wastelanders. You'll be able to get into an Ops multiple times throughout each day, but "certain rewards can only be achieved once per day." And to help keep Ops challenging and fresh, their "locations, enemies, and enemy mutations will be randomized every day".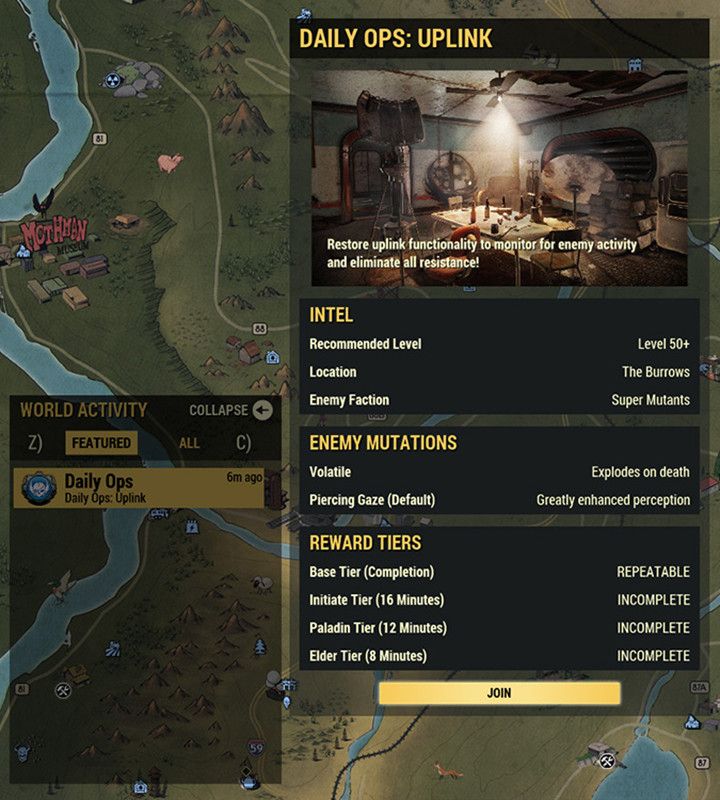 Dive into the Fallout 76: Inside the Vault – Daily Ops Preview post and the Fallout 76: Daily Ops (Developer Gameplay) video for the complete details, including the Daily Ops locations, enemy mutations, tier rewards system, and the possible last details on Fortifying ATLAS.
Source: Read Full Article