You can now log into the Dungeons & Dragons 4th Edition-based MMORPG Neverwinter to experience the magic of the fey realm in the newly-released Sharandar expansion. The new fury of the Feywild story includes a famous and beloved zone now reworked, and a new social hub, and a three-episode story campaign.
Perfect World Entertainment has made reading up on all the Sharander expansion info easy to do, by gathering all the Sharandar Developer Blogs onto one handy webpage. Beginning with the initial Sharandar expansion announcement back on January 16 of this year, up to the recent Sharandar Reimagined post written by Senior Game Designer Noah Holmes, it seems as if it's all there. The only thing left is to log into the game and play all the new content for yourself.
ICYMI, Fury of the Feywild is the name of Neverwinter's first module added to the game back in August of 2013. It featured a Sharandar Campaign involving adventurers seeking a way to save the Feywild and the Iliyanbruen elves from being destroyed by the fomorian giant King Malabog. The module culminated with adventurers journeying into Malabog's realm and to his castle to end his terrible reign.
According to the Sharandar Reimagined blog post, this new module sends you back into the Feywild to return to Sharandar "to investigate the unexplained closure of the Fey Crossing and the slain elves found in Old Sharandar." While seeking out this new potential evil, you'll return to the Ruins of Malabog and a new Vault of Stars dungeon in Episode 1: The Iron Tooth. You'll also meet up with the Iliyanbruen elves who speak of having "waking nightmares", and of "a sleepless malice spreading throughout the land." You'll also reconnect with Merrisara Winterwhite, and discover that three hags have recently claimed sections of Sharandar as their own, leading you to face them each in Episode 1, as well as the following Episode 2: The Soul Keeper and Episode 3: The Odious Court.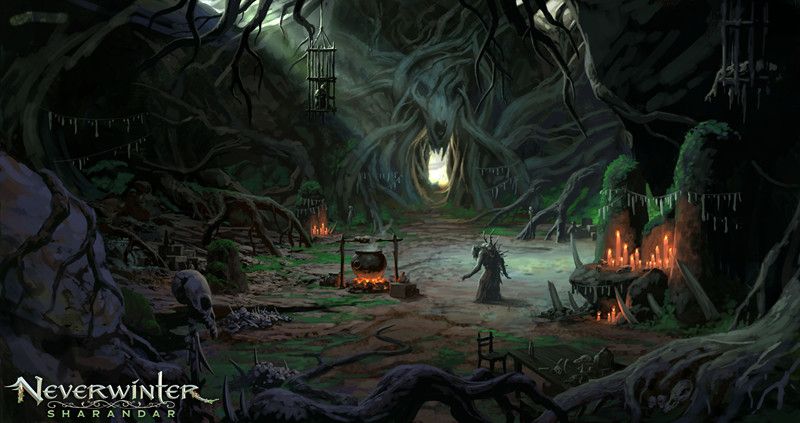 The other Sharandar Developer Blogs contain vital information regarding the Expedition Pack of Fairy Finds, Spellbound Lockboxes, and some of the new gear and rewards you'll find here.
Source: Read Full Article