When I reviewed the Anda Seat T-Pro 2 previously, I came away loving it for a stylish design that expertly balances the look and feel of a premium gamer chair without being garish or undesirable. It masterfully balanced the aesthetics of a modern and professional office with an inner gamer streak, like placing your most adored amiibo on your work desk. Anda Seat's Marvel Collaboration Series of chairs is completely different. Forget about keeping your inner child locked away inside, this chair screams that they are free and proud, and that's exactly why it's going to be divisive.
We all enjoy a good Marvel movie (ie: not Endgame) and the comic book megacorp now has its fingers in every pie imaginable, including this series of gaming chairs. Of the four chairs available in the series, I've been provided with the Iron Man Edition chair. While I'm not necessarily the biggest Marvel fan, I've been placing my cheeks on the soft cushions of what appears to be Tony Stark's lap for some time now, and I'm ready to give my verdict.
Aesthetics And Features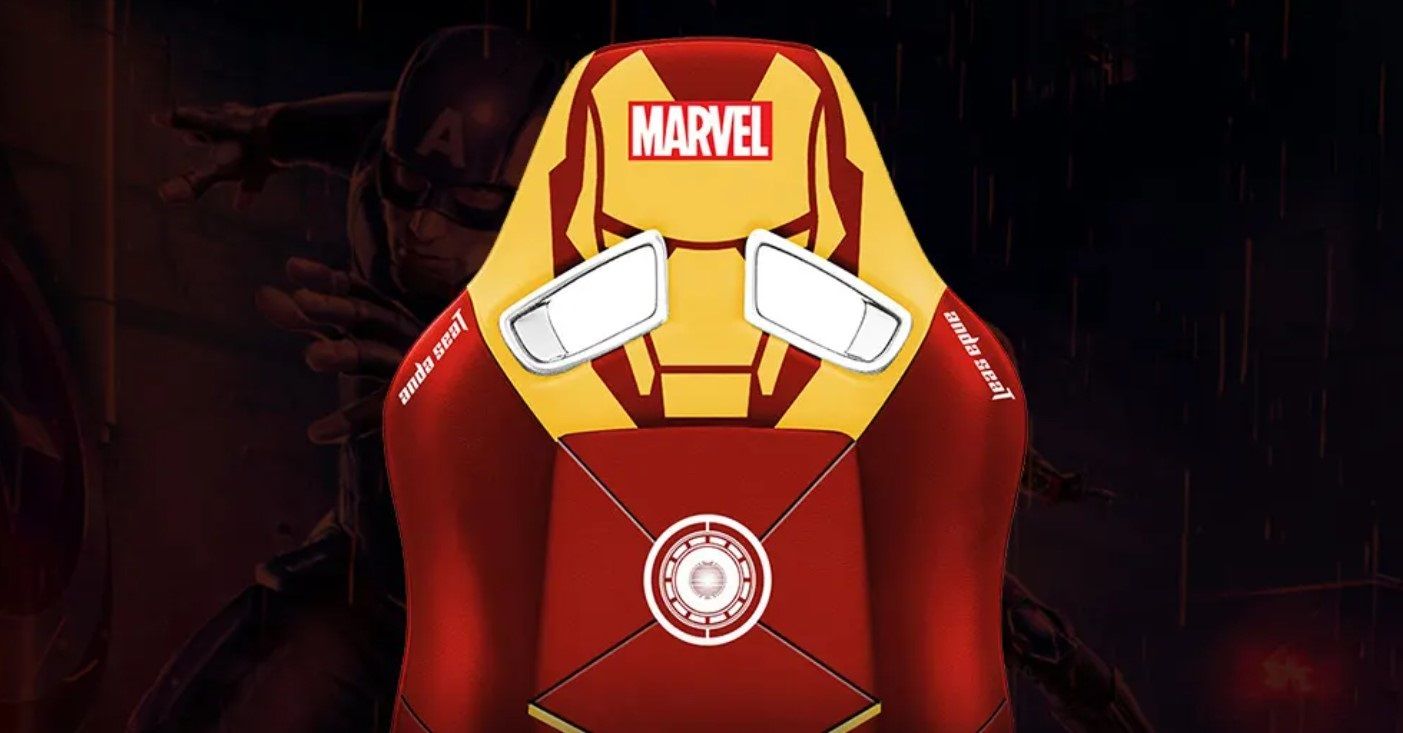 It's loud – but not quite as loud as the pictures might have you believe. Most official pictures of the Iron Man Edition Anda Seat chair paint is as bright red and yellow, and while it's true that the red hue here is pretty vibrant, that shining yellow of Iron Man's mask has been toned down to a more muted pale gold, closer to Iron Man's look in the Marvel Cinematic Universe. This also makes the chair look and feel a bit less noisy than the official images might suggest.
The gold is an excellent choice, because instead of being as garish as I was expecting, it actually feels fairly clean and not as immature as I had feared – though it certainly has its "features." Just above both of my shoulders are visible Anda Seat logos that replace the logos you would usually see on the head pillow and the back of the chair. The head of the chair itself now has a full embroidering of Iron Man's face and the Marvel logo, although the "aerodynamic" cut-outs interrupt the pattern and leave the chair looking a bit like it has two large, sad eyes. The back – Tony Stark's chest, I guess – also includes an embroidering of Iron Man's iconic Arc Reactor. The embroidery is finished with one large Iron Man logo on the back, along with an Anda Seat logo. Needless to say, no one will mistake this chair for any other brand or Marvel character.
All of those logos and icons, in addition to the bright colours, make this chair feel very loud. This isn't the professional, muted look of the T-Pro 2 – instead this is brave, bold, and perhaps best relegated to the room of your younger siblings, or locked away in the man cave that no one else may enter. If you're a big Marvel fan then of course you will want to display this chair with pride, but if you're somewhat more tepid on the MCU like myself, then this feels like far too much.
As a final point of comparison with the T-Pro 2, this chair does not have the ability to tilt the base of the chair, allowing you to easily recline or fix your chair at a certain level of tilt – after enjoying that feature for so long, I ended up missing it quite a lot. The chair still has a rear back that reclines, of course, with a lever on the lower right side allowing you to lean back and lay flat after a busy day of work. The armrests are also nice, and still very much the same kind of armrest that Anda Seat uses across its line of premium chairs. The same can be said of the PVC vinyl, which is a fake leather that feels authentic to the touch, but I wouldn't sit in this chair without clothes otherwise your skin might stick to it.
A nice addition to the Marvel Series of Anda Seat's chairs is that they all include a floor mat to prevent your chair from sliding on a smooth floor, or worse, scratching your floorboards. This is a lovely addition, and while it took a good amount of use to "iron out" the creases from it arriving folded, it's a wonderful addition to the package and really completes the look of your gaming nook.
Ergonomics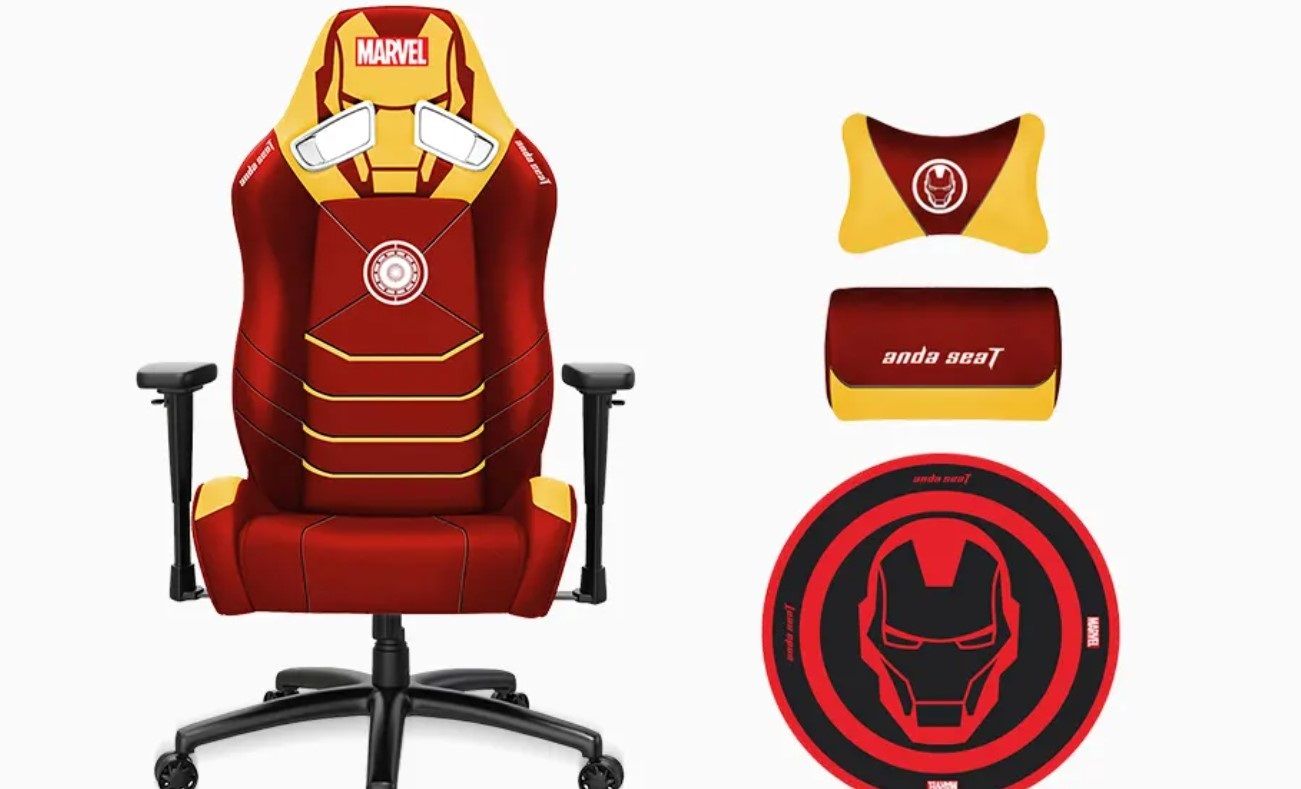 With this chair ergonomics feels like a point of contention. It takes the classic form of most of Anda Seat's line of premium gaming chairs, complete with removable pillows for your head and lumbar spine, but unlike many other Anda Seat chairs I'm having a somewhat difficult time comfortably sliding into it. The back of the chair feels somewhat more padded than what I'm used to, and as a result the lumbar support pillow feels as if it's jutting out of the seat, instead of feeling like a part of it. It doesn't sit snugly in my back the same way other lumbar support pillows do, but without the lumbar support pillow the head pillow feels like too much, and before you know it the comfort of the overall chair is shot.
But it's not all bad news. Using the reclining lever on the chair, you can find a position where your spine starts to conform with the cushions of the chair, and then once you're in that position, you're set. It's just that, to my dismay, I couldn't instantly slide into the position every time I sat down, instead I found myself adjusting the pillows and how I sat. Still, once you've found the magic spot, the chair is far more comfortable with pillows, and is still as comfortable and supporting as other premium gaming chairs for people that sit in place for long periods of time. After using this chair for a long period of time near-daily, I am happy to report that I didn't find my butt getting numb, and I've enjoyed sitting in it.
It feels a bit smaller than I'm used to – both in terms of overall height and how my torso feels when in place. It doesn't feel like there's much space to move around or put your leg beneath you to sit on, and there certainly isn't much room to stretch your legs open for my manspreaders out there. But while this sounds like a negative, I also feel that, once you've found that comfortable position, you will seldom stray. The smaller size of the seat overall locks you in position, making you feel secure, and then your body stays still as you type or game your day away. It can actually feel somehow reassuring. But having said all of that, this still isn't the first Anda Seat I would buy for overall comfort.
Verdict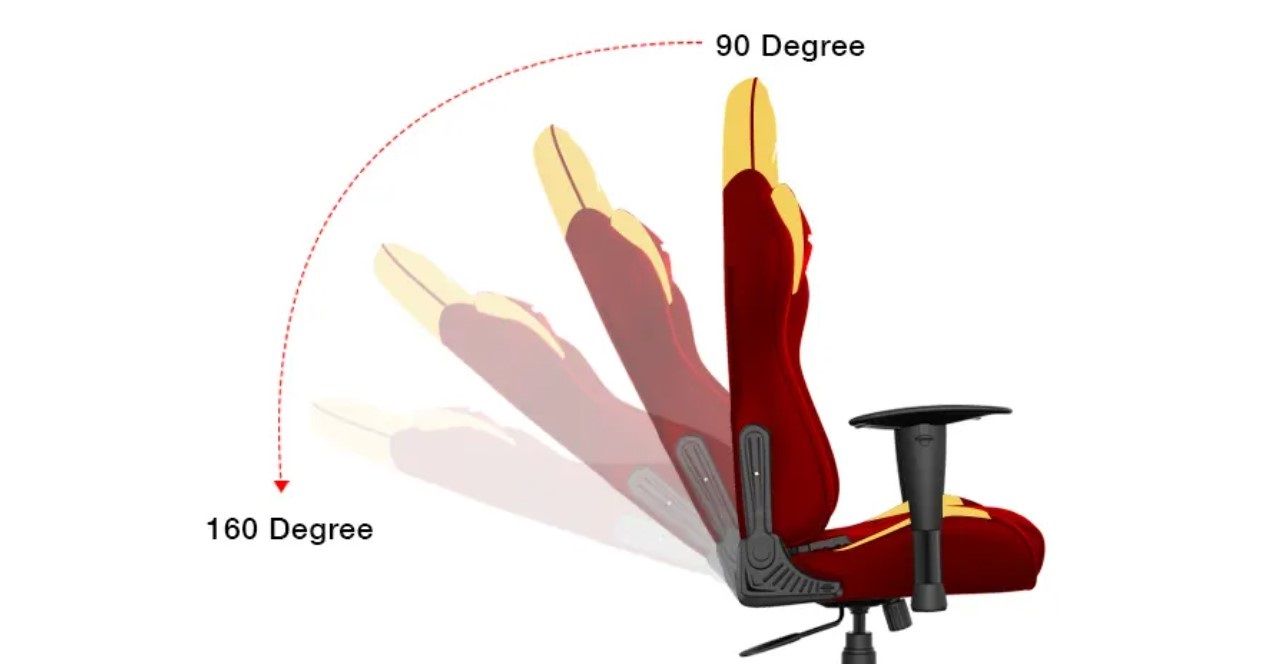 I can't give this chair the glowing praise I gave to Anda Seat's T-Pro 2. While that chair did so much right and appealed to me personally, this chair doesn't really. Even ignoring the aesthetics – which I can admit will be charming in the right light for the right person – the overall comfort and support this chair offers isn't quite up to the standard I expect from Anda Seat.
Despite that though, I can't hate it. Anda Seat's Iron Man Edition is still a premium gaming chair with superb build quality and a level of comfort that will still be tough to match for the same price. Even while sitting in it right now, feeling the points of contact against my back and neck, I love to push back and feel the support, pull the lever and lay back. If you're still working on an older office chair that is killing your back, and you want an upgrade that flaunts how much of a Marvel fan you truly are, then Anda Seat's line of Marvel-themed chairs might be exactly what you want.
Next: Redditor Testifies Before Congress Over His Role In GameStop Stocks… In A Pro Gaming Chair
You can view Anda Seat's Iron Man Edition on its site here. Product was provided by Anda Seat for the purpose of review.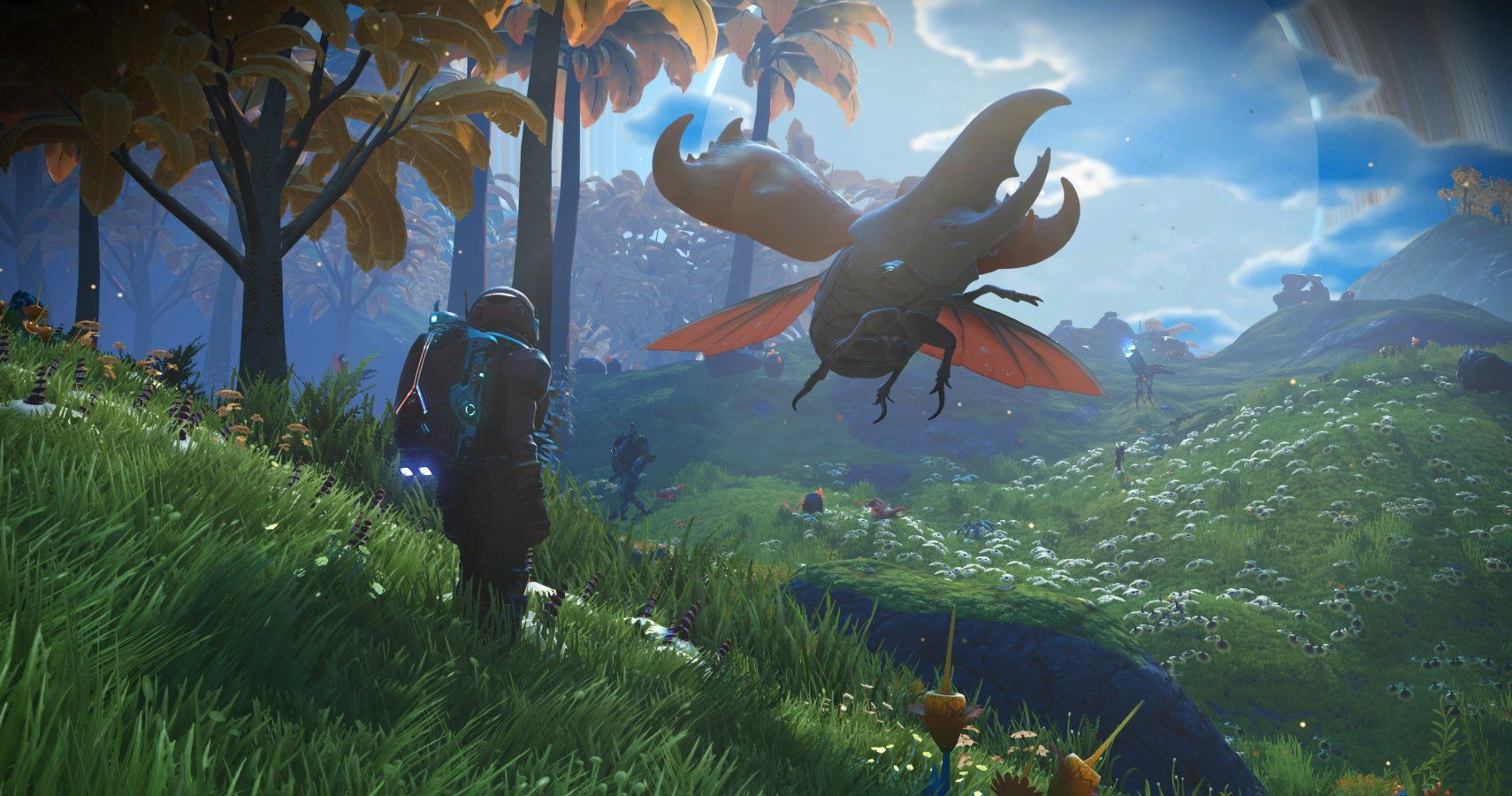 Game Reviews
Marvel
MCU
hardware
Gaming Chair
Iron Man
TheGamer Guides Editor.
Am I supposed to write this in the third-person? Do you know how awkward it is talking about yourself like you're someone else? No one would ever believe someone else has this many nice things to say about me.
Source: Read Full Article