Although many questions remain about the next installment in the Halo saga, fans can be sure of one thing. If Halo: Infinite launches without a battle royale mode, the game will be dead on arrival.
Fans are eagerly awaiting the release of the next Halo game, and have shown a thirst for any information that 343 Industries is willing to offer. Not much information has been given, but fans of the series do know some things:
The expected release should be sometime around the holiday season in 2020.
It will be available on both the Xbox One and the new Xbox Series X, also launching around the same time.
The game will be included with Xbox Game Pass.
A brand new Slipspace Engine will be put into effect.
All that fans have had to go on thus far is an announcement trailer at E3 2018, and a "Discover Hope" cinematic trailer at E3 2019.
These trailers are jaw-dropping and have only amplified the hype around this game. There is one important aspect, however, that is getting overlooked.
Fans are used to what Halo has offered in the past: a captivating and immersive campaign, a high-powered and engaging multiplayer experience, and forge and custom games to give to game longevity. But one question remains: will Halo: Infinite feature a battle royale mode?
Why Battle Royale?
Battle royales have taken the world by storm, completely transforming the face of gaming on Twitch and YouTube. Starting with H1Z1, then evolving through PlayerUnknown's Battlegrounds, Fortnite, Apex Legends, and now Call of Duty: Warzone, the battle royale genre has changed the future of first-person shooter (FPS) games forever.
The launch of Call of Duty: Modern Warfare saw great success early on, topping $600 million in sales during the first three days alone. This marked the most successful launch weekend in Call of Duty history. As shown on the green line on the chart below, viewership on Twitch quickly fell off, however. As early as December, only two months after the game's launch, viewership was down well over 50 percent to under 50,000 average viewers per day. This has only continued to decrease over time.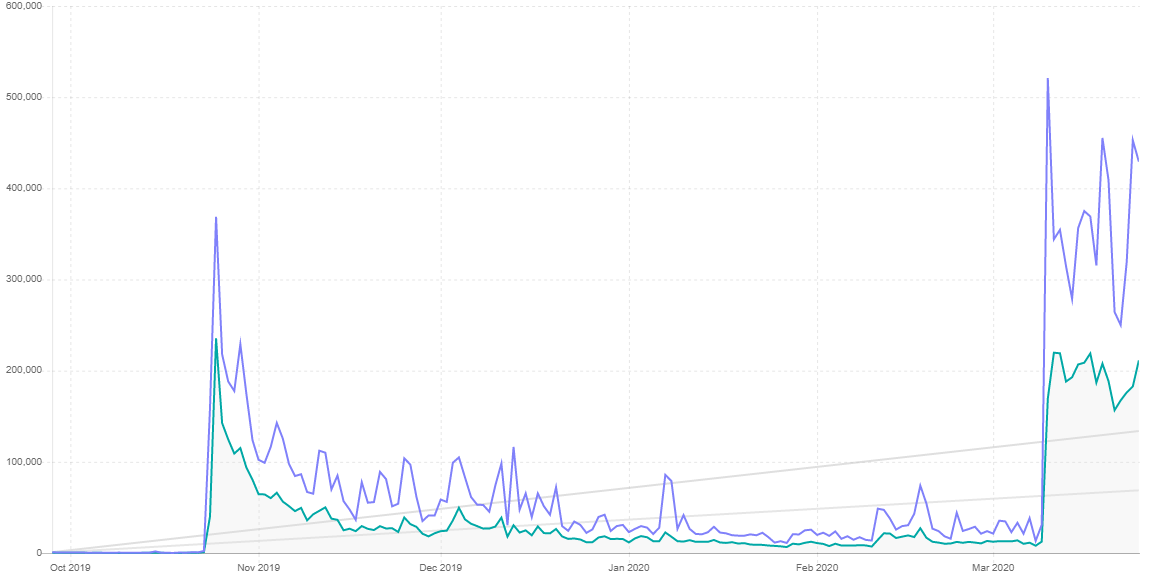 The bright side to this is the giant spike in viewership since March 10, 2020. That day marked the release of Call of Duty: Warzone, Modern Warfare's brand new, 150 person, battle royale. In just 10 days, this game has reached over 30 million players, marking an extremely successful launch. Activision's marketing has been nothing short of genius, recognizing that at around this point in a Call of Duty game's lifecycle, even die-hard players begin to turn away from the franchise and search for different games to occupy their free time. Launching Warzone strategically at this point, along with cultivating partnerships with famous streamers and content creators such as Dr Disrespect, has lead to the successful revival of Call of Duty: Modern Warfare.
It's important for Halo: Infinite game developers to understand this lesson. In order for Halo: Infinite to be equally successful for longer than just a few short months, 343 Industries needs to fully understand the direction the FPS genre is going. The studio then needs to apply what it knows to the game.
Halo is known for its immersive campaigns and addicting multiplayer, and frankly, it always will be. 343 does not need to reinvent the wheel with an entirely new battle royale experience that changes everything. The development team does, however, need to cater to the FPS community's desires and offer a battle royale to its player base. This would not come without some downsides, of course, like less time and money spent making and updating the multiplayer and campaign. But the upside is absolutely limitless.
Esports observer Moses_FPS took to Twitter to state his opinion on the matter.
The Limitless Potential of the Battle Royale Format
Battle royales offer unmatched replayability for the FPS genre, as often times games in this category quickly become dull, repetitive, and lack quality competition. Every single drop, every single gunfight and every single epic victory is entirely different, giving the player an endorphin rush that a simple team-slayer win will never replicate.
Halo has such a storied history with so many brilliant storylines and characters that fans have come to know and love. Whether this hypothetical mode is free-to-play is subject to 343 and Microsoft, but there are countless monetization options by solely relying on the franchise's history and passionate fan base. It would be a win-win for both fans of the series and for the developers that are trying to appease shareholders.
343 Will Need To Give Players What They Want
Fortnite was released in 2017, yet is still consistently one of the most-watched games on Twitch and YouTube. PUBG smashed record after record during its successful run before eventually succumbing to the success of other battle royales. FPS fans absolutely love this game mode and will continue to demand it for years to come. The success of PUBG, Fortnite, Apex Legends, and now Call of Duty: Warzone has shown that appreciation for the battle royale genre is not just growing, but is growing exponentially. The passionate fanbase of the Halo franchise should be demanding this from 343 Industries. One can only hope that this developer, like many others, obliges. If Halo: Infinite does not want to become another failed shooter, tossed quickly into the discount bin at Walmart, it must include a battle royale.
Source: Read Full Article