Season 13 of Destiny 2 will be called Season of the Chosen and will see the return of the Cabal. Empress Caiatl, daughter of Calus and leader of the Cabal, wants to form an alliance with humanity to eliminate the Hive threat once and for all. But when she demands the Guardian's subservience it causes negotiations to break down and for all-out war to erupt.
While the Cabal will take center stage for the seasonal story, Bungie's recently released Season of the Chosen calendar indicates that it won't just be Cabal-bashing for the next three months.
For example, the Guardian Games are coming back.
Last year's Guardian Games had each of Destiny 2's character classes compete to determine which one is the best. Titans won 2020's Guardian Games because they're clearly the superior class and I'm not just saying that because I'm a Titan main.
Guardian Games redux will run from April 20 to May 9 and, according to the small image at the bottom of the calendar, featuring an all-new set of armor for each of the three classes.
Season of the Chosen will begin February 9 and bring back two Strikes from Destiny 1: Devil's Lair and Fallen S.A.B.E.R. On top of that, the seasonal Battlegrounds activity will allow you to play with two of your friends and take on the upper-echelons of Caiatl's army. New Battlegrounds will open up every week in February and culminate in the new Proving Grounds Strike opening for season pass holders on March 23.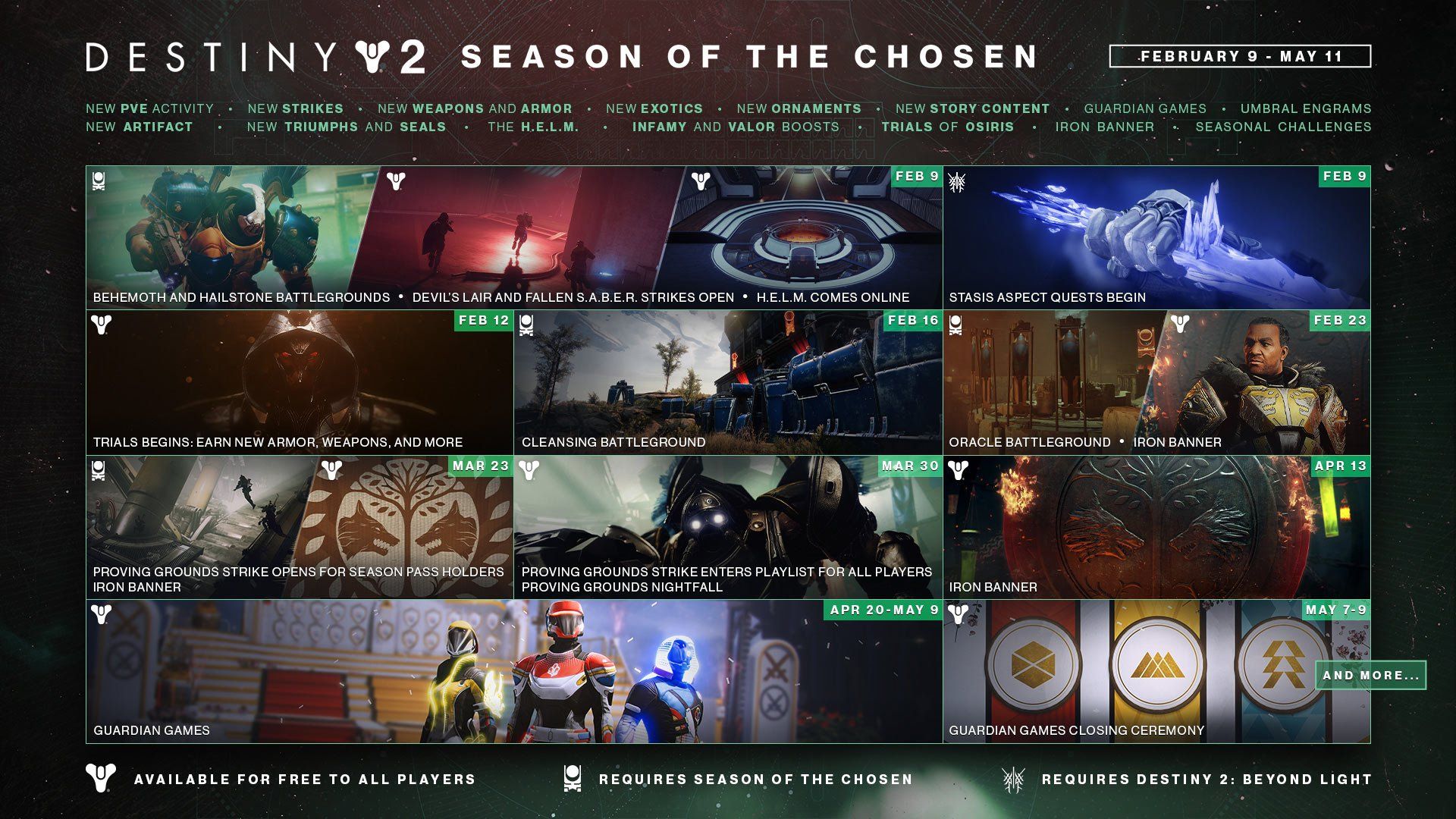 As with each new season, Season of the Chosen will bring a brand new armor set, a new Exotic weapon (the Ticuu's Divination Bow), and a new seasonal artifact to unlock a new set of seasonal mods. Trials of Osiris will also be getting an armor refresh, and sandbox changes might even bring a rocket launcher meta thanks to a 30% damage boost.
Destiny 2's Season of the Chosen begins February 9.
Source: Read Full Article