Prime geek info website Boing Boing recently posted about "the release of the special hardback edition of Appendix N: The Eldritch Roots Of Dungeons & Dragons." The book is a collection of the authors and stories that influenced and inspired Gary Gygax to create the world's most popular tabletop roleplaying game, and was edited by Boing Boing contributor Peter Bebergal.
The paperback edition is currently scheduled for publication on February 23, 2021, from your various favorite book-buying sites. This special edition hardcover edition was published this November 16 by Strange Attractor Press out of the United Kingdom (London), and is available on the publisher's webstore for £30.00 / $40.15.
The 1979 edition of the Dungeon Master's Guide contained Appendix N: Inspirational and Educational Reading, in which Gygax listed the master authors and their stories that helped him turn the classic rules of wargaming into the fantasy roleplaying phenomenon that it is today. According to the Boing Boing article, Bebergal had the idea "to assemble many of these authors and stories into a reader exploring these worlds that influenced the mother of all roleplaying games."
The most immediate influences upon AD&D were probably de Camp & Pratt, R. E. Howard, Fritz Leiber, Jack Vance, H. P. Lovecraft, and A. Merritt; but all of the above authors, as well as many not listed, certainly helped to shape the form of the game. For this reason, and for the hours of reading enjoyment, I heartily recommend the works of these fine authors to you.- E. Gary Gygax, 1979, AD&D Dungeon Masters Guide, p. 224
The special hardcover edition is designed to read like a classic D&D module, with the title Dungeon Module GG1 – Descent into the Temple of Appendix N, and even includes an original-style blue and white graph paper dungeon map on the inside front and back covers. Sixteen stories are included within, from such notable authors as Poul Anderson, Lin Carter, Robert E. Howard, Fritz Leiber, Fred Saberhagen, and many more. It also features de-bossed cover boards, "and a limited edition chapbook of A. Merritt's 1918 novella People of the Pit", with art by Virgil Finlay. The book itself measures roughly 5" x 8" and contains 360 pages.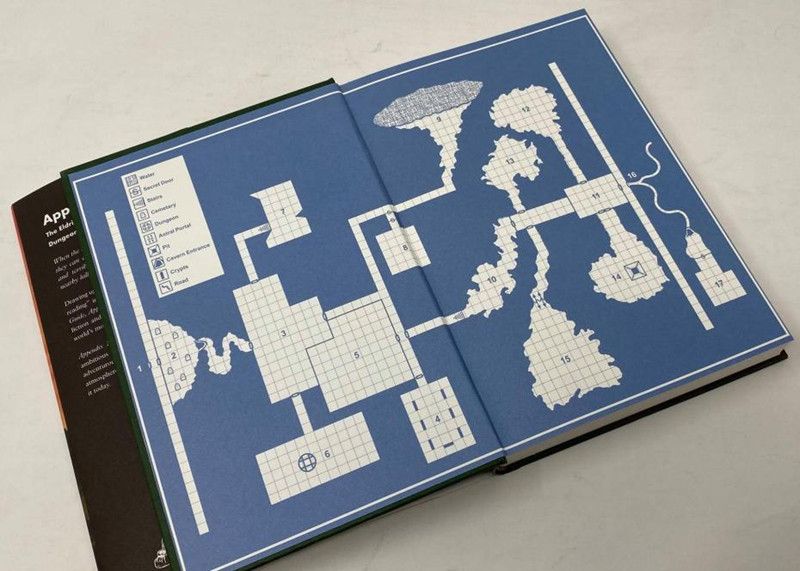 Of course, Bebergal didn't create this grand tome alone. Ann VanderMeer (The Big Book of Classic Fantasy, The Big Book of Science Fiction, The Time Traveler's Almanac) wrote the book's afterword, Arik Roper created the cover art, and Alex Crispin (Escape the Dark Castle) created the interior illustrations and the explorer's dungeon map design.
Source: Read Full Article