Gunfire Games' action RPG Chronos: Before the Ashes is set to release this December 1. In case you're on the fence as to why you should make this one of your holiday season gaming purchases, the devs recently posted the Chronos: Before the Ashes – Explanation Trailer over on publisher THQ Nordic's YouTube channel, which defines with a bit more clarity what you can expect from Chronos' gameplay.
Chronos: Before the Ashes is the prequel to 2019's survival action shooter Remnant: From the Ashes, developed by Gunfire Games and published by Perfect World Entertainment. According to the press release, Chronos "is based on the VR-exclusive Chronos from Gunfire Games, but has been overhauled and optimized to work on all platforms without the need for VR support." And "on all platforms" refers to the game's slated release to PC, Stadia, Xbox One, Nintendo Switch, and PlayStation4.
If you've played Remnant, then you'll know about the Labyrinth, an interdimensional rift that allowed you to travel from Earth to the otherworldly realms of Corsus, Reisum, Rhom, and Yaesha. In Chronos, it seems as though you'll be doing the greater part of your adventuring within the Labyrinth itself, perhaps in a time before it somehow became connected to those other realms. And once again, err, for the first time, you'll be on a quest to save your homeland from a great evil. The explainer video shows other items familiar to Remnant players, such as the large floating red respawn crystals, and the often-intense and always-exacting combat.
However, unlike Remnant, Chronos has the rather unique feature that each time your character dies, they respawn a year older, ensuring that "death is not the end, but an integral part of your hero's story." You'll enter the Labyrinth at a youthful age, with the benefits of strength, speed, and a strong constitution. With each death, the benefits of youth give way to wisdom, and you'll learn to rely more on the arcane arts in order to survive. The challenge is, can you do it?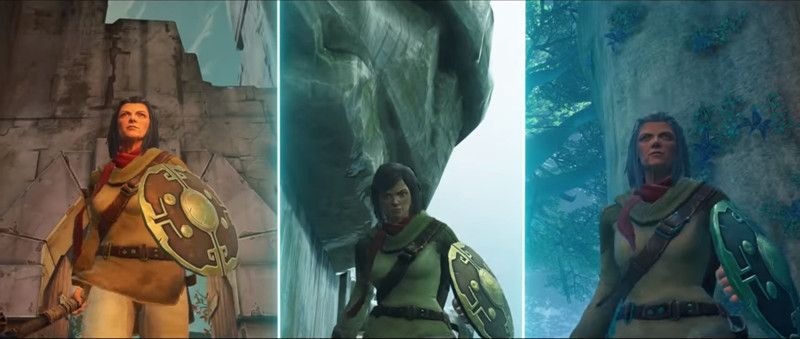 Thankfully, you don't have much longer to wait to find out – the game goes live on December 1.
Source: Read Full Article