The Aquatic Pack for Planet Zoo brings you five brand new aquatic animals, a water-themed zoo that you can play as a sandbox game or timed challenge, and of course a lot of new scenery pieces.
The contents are very similar to other Planet Zoo DLC packs, which all offer a range of themed scenery, new animals, and an extra challenge, scenario, or map. We take a look at the Aquatic Pack contents and what it brings to your Zoo.
Aquatic Animals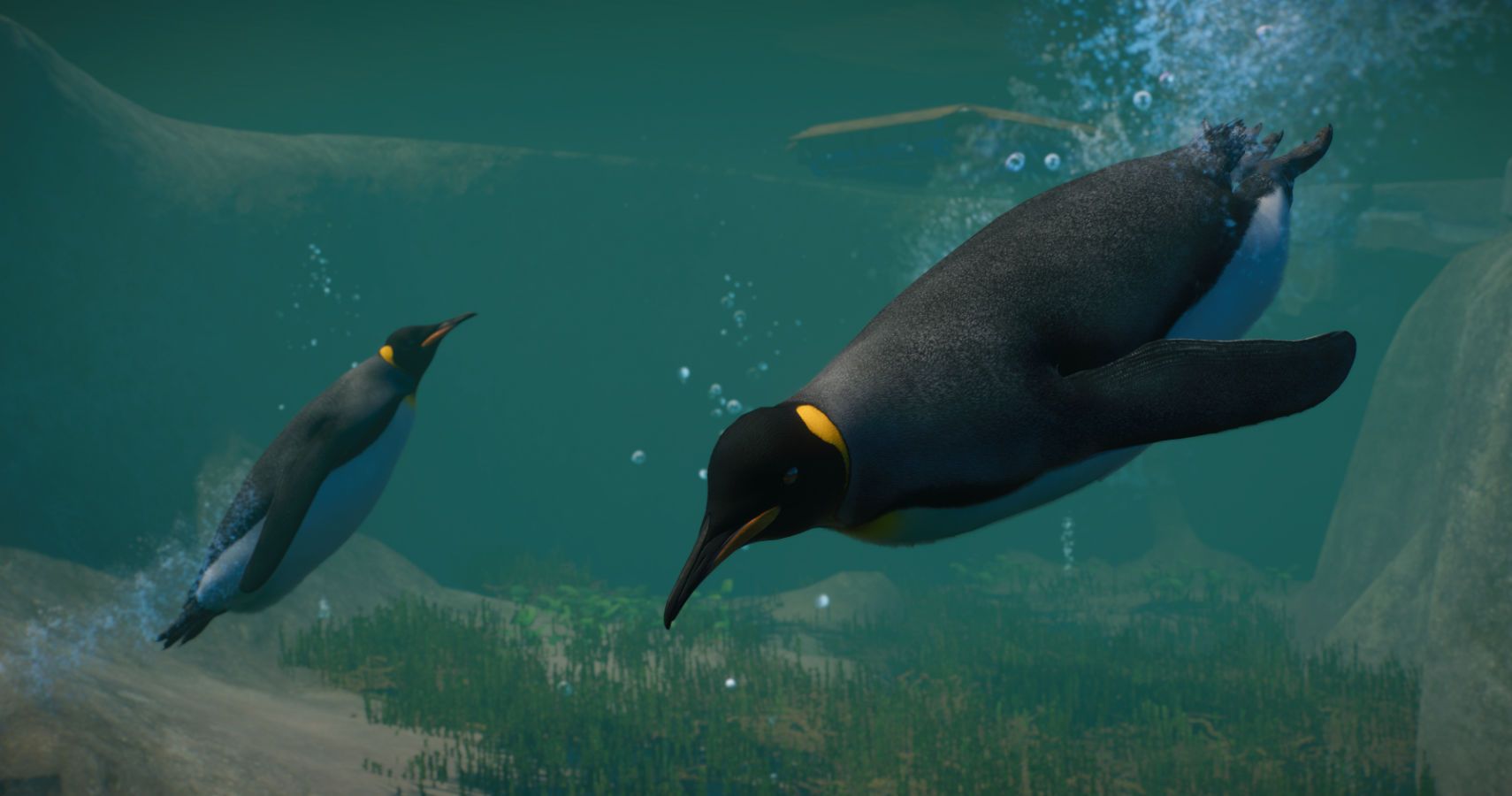 The animals are quite split in this pack. You'll find the King Penguin and Grey Seal, which love the colder weather and deep water, while the Giant Otter and Dwarf Caiman prefer warm rivers filled with mangroves. The final animal is the exhibit-based Diamondback Terrapin.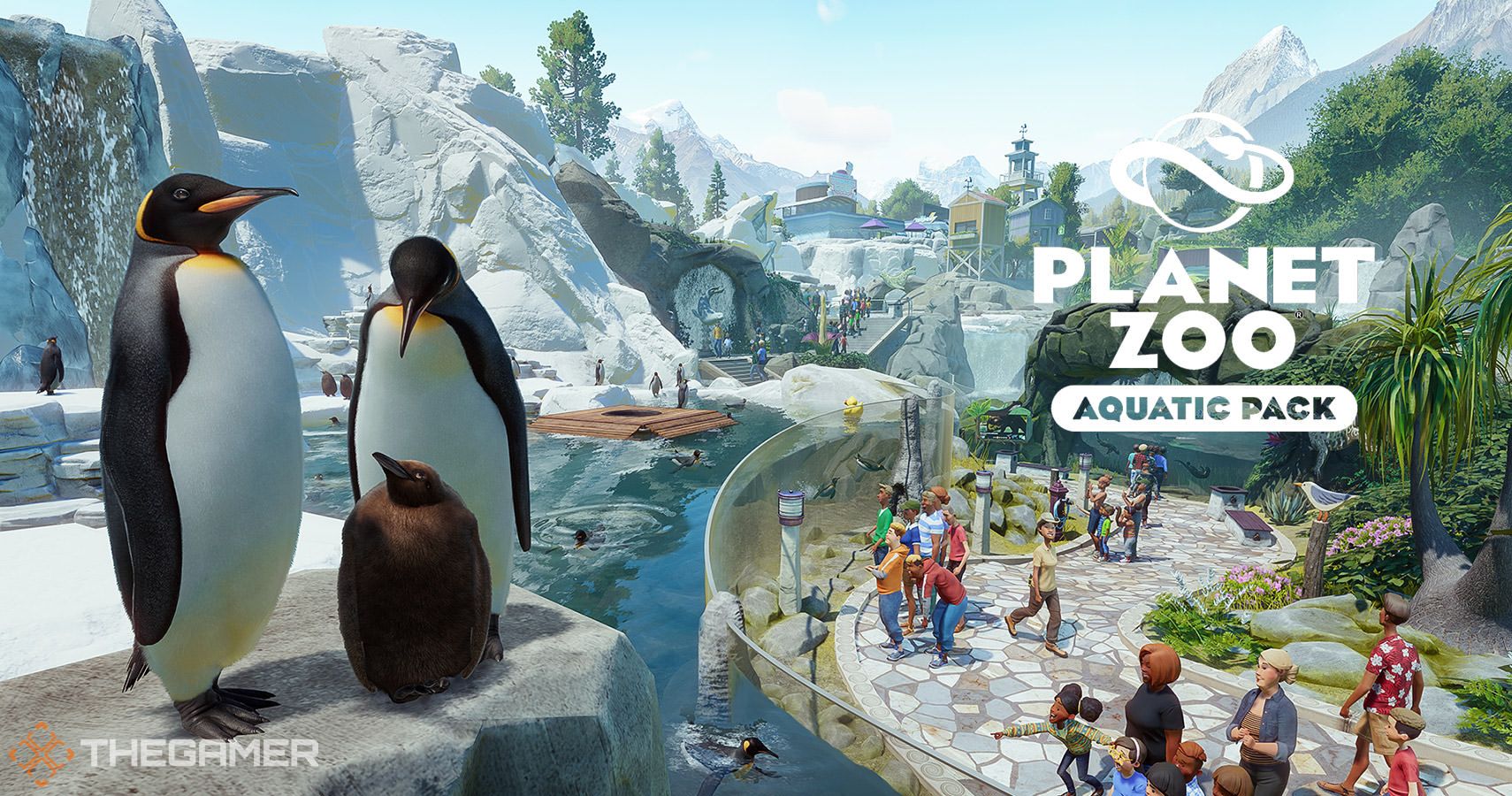 While the animals prefer different environments they do fit well together as well as with other existing animals. The last couple of DLC packs, Australia and South America, have been themed to specific regions but basing this pack on the much broader aquatic theme makes the animals fit more easily into most zoos.
Both King Penguins and Grey Seals go especially well in Arctic zoos, while Giant Otters and Dwarf Caimans add diversity to zoos based in more temperate climates. Meanwhile, the very popular Diamondback Terrapin is a great addition to anywhere with exhibits.
Scenery And Surroundings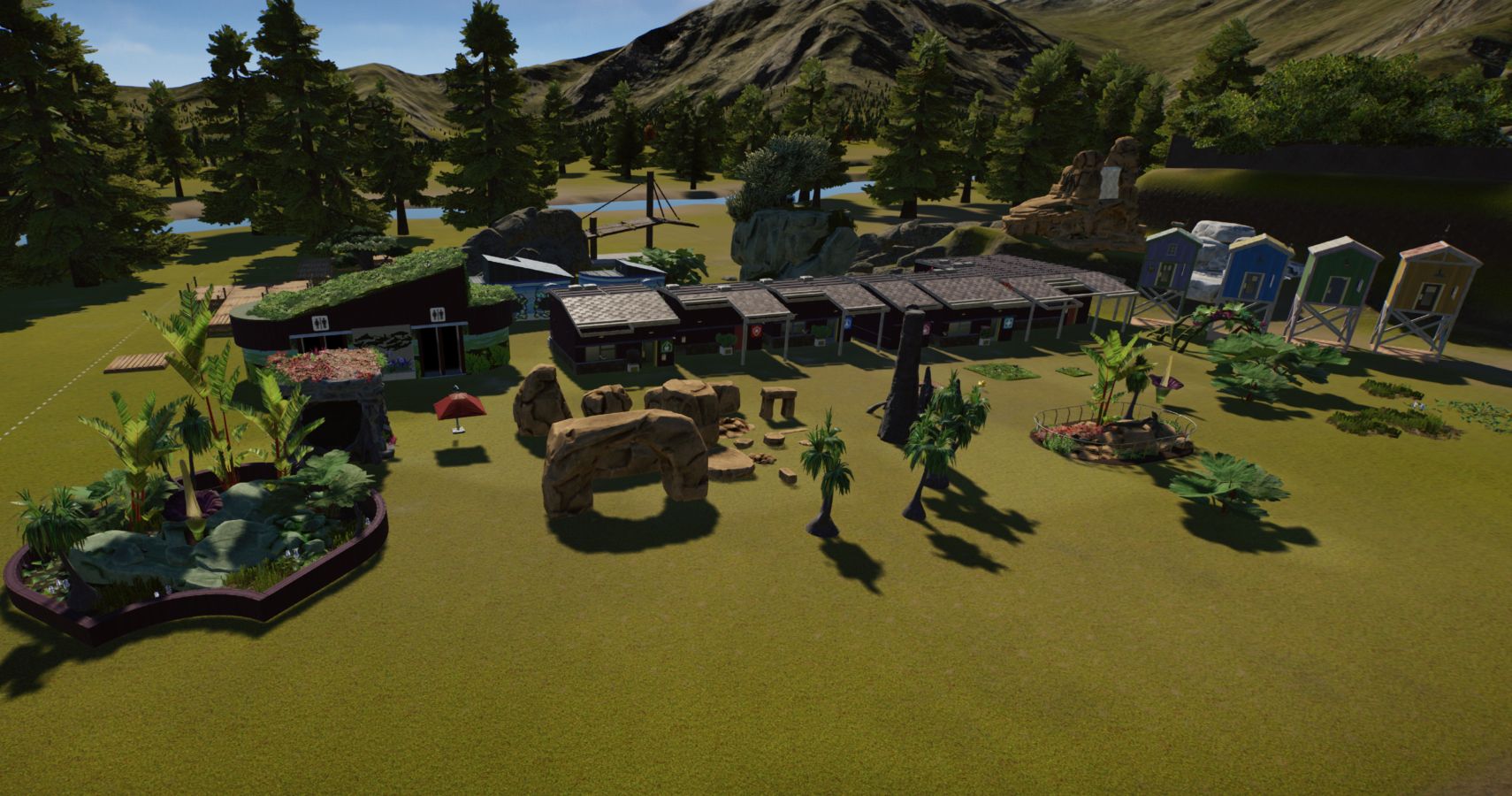 The new scenery and blueprints are aquatic-themed. This sounds random, and to be honest it is, but the scenery actually blends in perfectly with almost everything else in the game.
The majority of the blueprint buildings are quite modern and tasteful, blending well with pretty much any theme you may have. There are also some buildings that evoke images of beach huts, making them a perfect addition to a coastal zoo. The only truly quirky designs are the mural based shells that are vibrant and ice-themed. There are also some cute penguin fountains and some aquatic murals.
In terms of the rest of the scenery, there's a heavy emphasis on natural landscapes. Individual pieces include a range of rocks and tree stumps, as well as the foliage you'd expect. Aquatic and regular trees and plants are included and there are also several pre-built scenery features.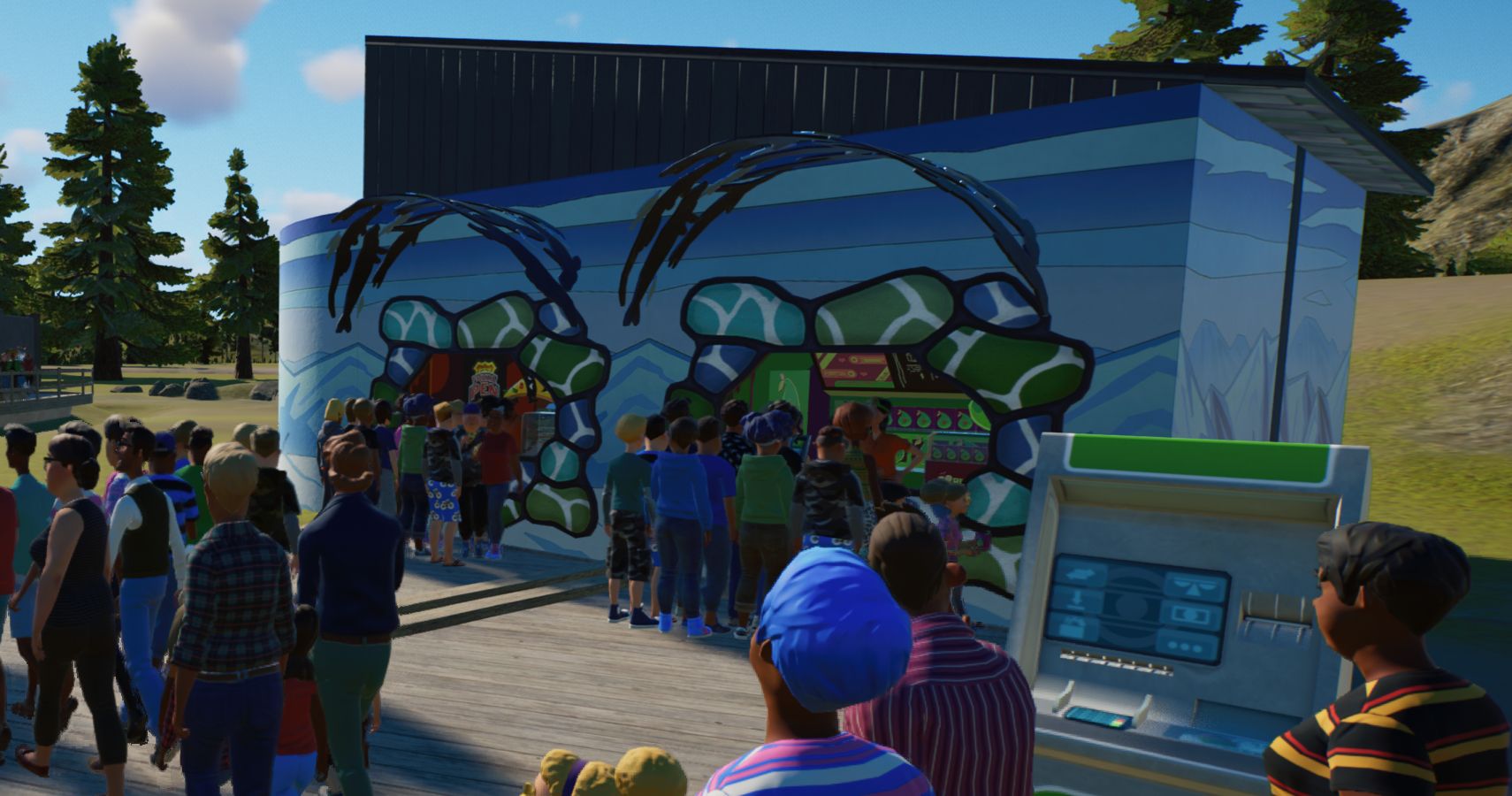 Alongside a couple of rockeries, there are garden areas of different sizes, as well as a waterfall feature. Both the rockeries and waterfall could easily work in a habitat or as scenery to match the rock-based exhibit housing.
Building scenery can be very tricky so it's great to have the option of so many pre-built designs. There are also some blueprints for new habitat shelters and features including a couple of wooden shelters and some jetties.
The collection of scenery items is finished off with benches, picnic tables, bins, an umbrella, and some new enrichment items for aquatic animals, a rubber duck, and a box.
A New Challenge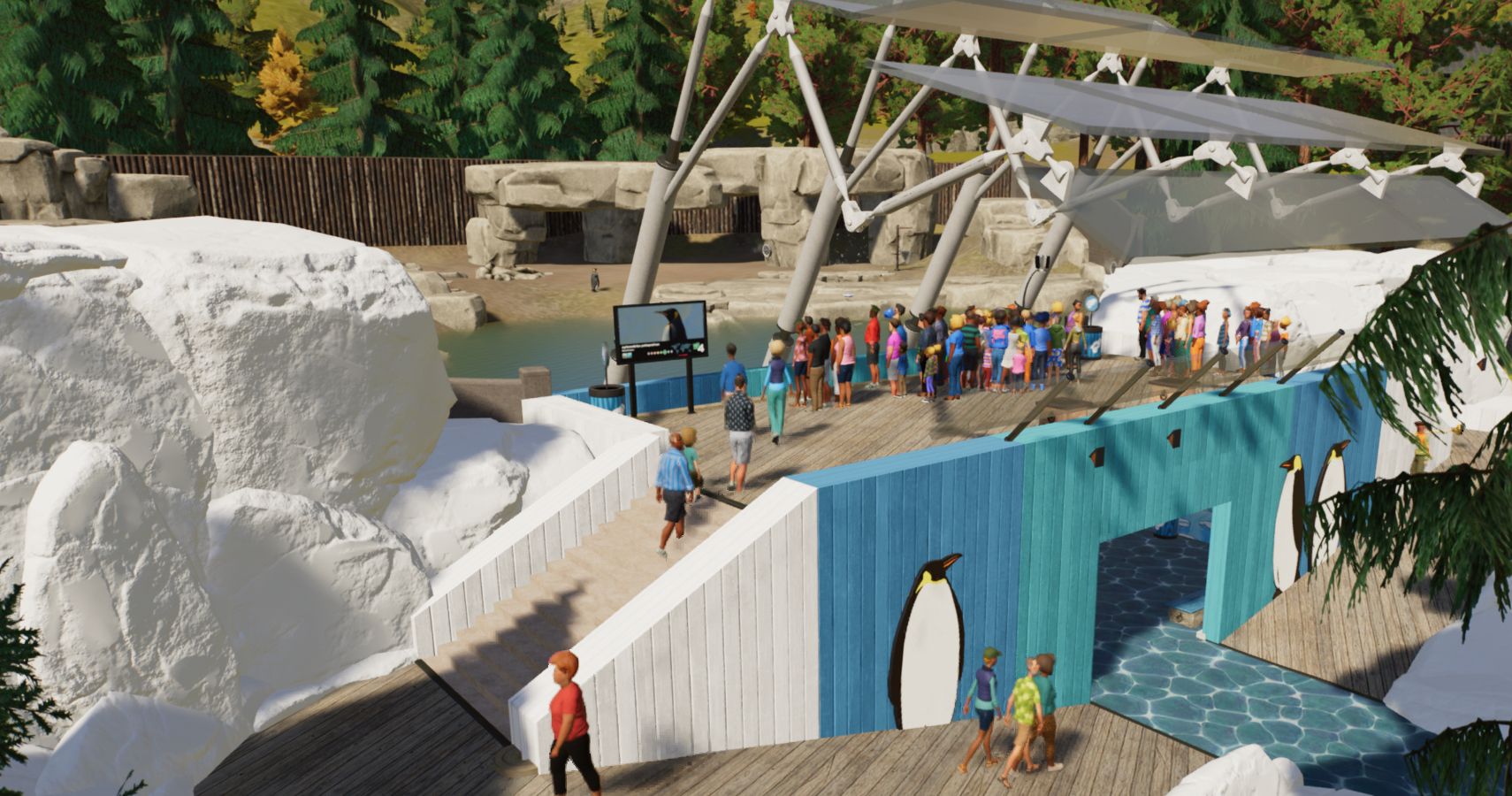 The new timed challenge is called Red Barn River and sees you take control of a beautiful but small and retro-looking zoo by a river bed. You'll see King Penguins and Giant Otters already in the zoo but you'll need to add any other aquatic animals you wish as you work on the challenge to modernize and expand.
While there is space to expand, the terrain tool is disabled meaning placing exhibits, especially for aquatic animals, is actually very challenging. I played the zoo in Sandbox mode in the end to work out the optimal layout, before I went back to the challenge. This really helped as the water areas are different depths and some animals require a certain depth of water.
However, when trying to place aquatic exhibits there is a new feature that helps; pre-built aquatic exhibits. These can be strange to place since they aren't as flexible to move as normal scenery, but they do have the advantage of being perfectly terraformed to allow for deep swimming areas. One is most suited to penguins or seals, while the other would nicely house otters or caimans.
The Verdict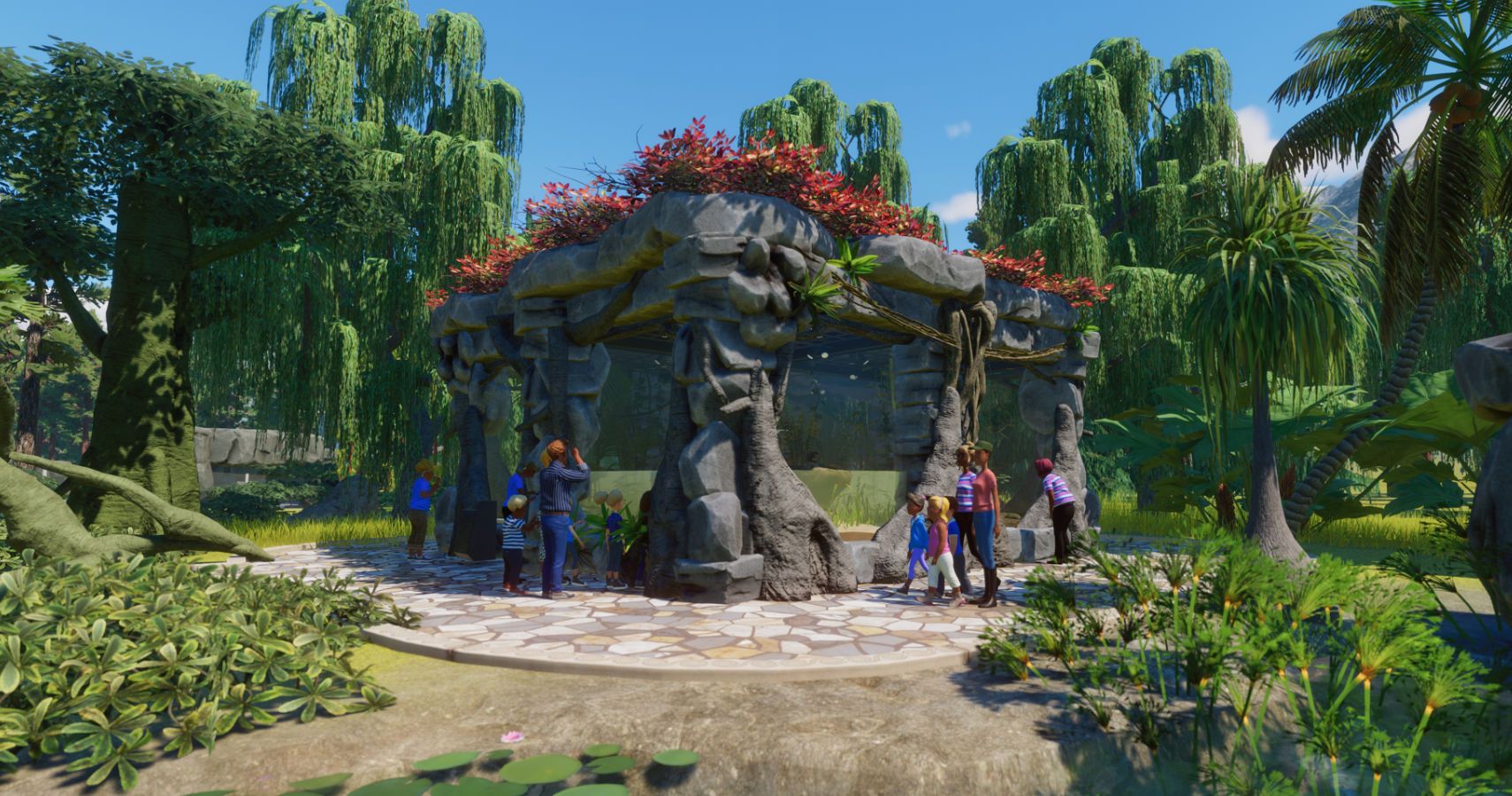 Overall, this pack feels like an addition that just seamlessly slots into the game, bringing added value to a number of zoos. The animals and scenery are all diverse enough that there's something to fit almost every zoo. Combined with the features in the new patch, especially the animal talks functionality, it feels like a DLC that rounds out your experience. Also, it has penguins, and who doesn't want penguins?
A PC copy of Planet Zoo Aquatic Pack was provided to TheGamer for this coverage. Planet Zoo: Aquatic Pack is available now for PC and requires Planet Zoo to play.
NEXT: Planet Zoo Review: Grab A Shovel, You're About To Get In Deep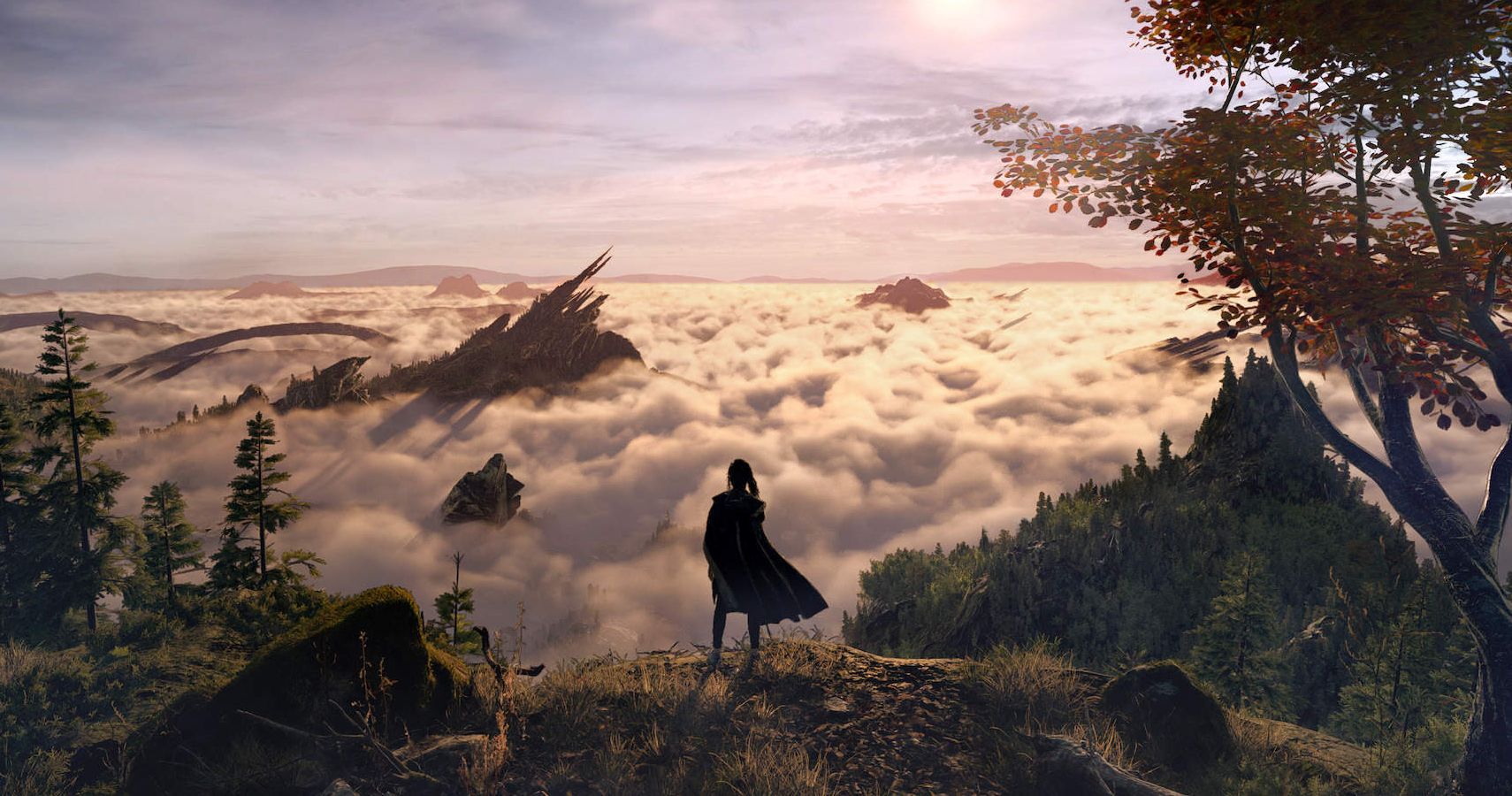 TheGamer Originals
Planet Zoo
Helen began playing games at an early age with her first computer being a hand-me-down Sinclair ZX Spectrum. It didn't put her off… She is all grown up now but is still a gamer at heart, especially when it comes to The Sims and other strategy and simulation games.
She juggles the daily demands of life with a family and somehow still finds the time to indulge her two passions in life, writing and gaming; sometimes both at the same time.
Source: Read Full Article