An assortment of brand new Pokemon TCG product released today, including mini tins, a pin set, and a collector's chest. These products will be the last before the next set, Rebel Clash, releases next month.
The Galar Pals mini tins come with 2 packs, 1 Sword & Shield base set and 1 XY Evolutions, as well as a Garchomp coin and an art card. The art card patches the art on the outside of the tin. There are 5 to collection: Scorbunny, Sobble, Grooky, Galarian Ponyta, and one featuring Yamper and Morpeko. The tins retail for $8.99. They aren't the best value if you're only interested in the packs, but the tins themselves are great collectibles.
The new pin set is a much better value. Retailing at $14.99, this box includes 2 Sword & Shield base set back and a Sun & Moon base set pack, as well as an enamel pin and a holographic promo card. There are 2 options: Snorlax or Morpeko, and both pins/promos look phenomenal. Sun & Moon base set is much older than XY Evolutions, and therefore a lot less common out in the wild. If you're just starting your collection or looking to pull something you missed, they may be your last chance to find Sun & Moon base set cards.
Finally, the collector's chest might actually be the best value of all. This lunchbox-style collection includes holographic versions of Scorbunny (SSH 30/202) Grookey (SSH 10/202) and Sobble (SSH 54/202) as well as a unique coin featuring all 3 starters. It contains 5 booster packs: 2 Sword & Shield base set, 1 Cosmic Eclipse, 1 Burning Shadows, and 1 XY Evolutions. Finally, the chest includes a mini portfolio, a notepad, and four sticker sheets.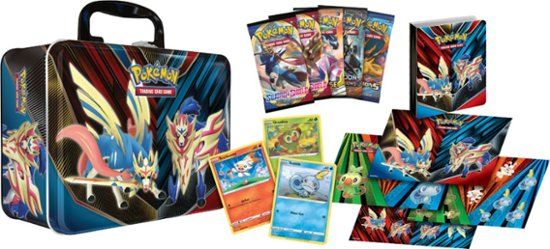 For only $20, the collector's chest is a surprisingly create value.  Cosmic Eclipse, Burning Shadows, and XY Evolutions all contain high-value chase cards (that all happen to be Charizard) and the holographic starter cards are not promos, meaning they can go in your Sword & Shield master set. Those holos can't be pulled from regular Sword & Shield booster packs, so if fancy a full holo master set, this is the only way to get the starters.
The next set, Rebel Clash, is scheduled for release early next month. This week, Pokémon announced that the 2020 master series has been canceled, meaning that all pre-release events have been canceled as well. The Rebel Clash build-and-battle box should hit store shelves later this month.
Source: Read Full Article