Ever since I started streaming, I've had no real need to play video games on a traditional television. Unless I was traveling and hooking up my PlayStation 4 to a hotel room television, my preference was to play my PS4 using the PC monitors on my desk. Quite honestly, playing games closer to the screen made it difficult for me to play (or care about playing) on a big screen TV. That is, until the 2020 TCL 6-Series came into my life, which also happens to be the world's first television featuring THX Certified Game Mode.
I'd wager that it's been close to eight years since I primarily played PlayStation 4 on my living room television. Now that I've had a chance to give it another try, the TCL 6-Series is making it very difficult for me to go back to using my desktop computer monitors.
A New Era
The last TV I invested in was a 55" Samsung LCD TV in 2009. The newer flatscreen technology meant that not only was the television heavy, it cost a pretty penny too. That said, the investment paid off, as the TV has provided over ten years of solid usage. Of course, with the release of the next-gen consoles this holiday season, the TV is soon going to be obsolete and unable to take advantage of the visual capabilities of the PlayStation 5 and Xbox Series X. I would imagine that this will be the case for a lot of gamers out there, but, thankfully, the TCL 6-Series offers up exactly what you'll need to pair with your next-gen console.
Note: Please keep in mind that my photos of the TCL 6-Series don't do nearly enough justice to the in-person quality that the television puts out.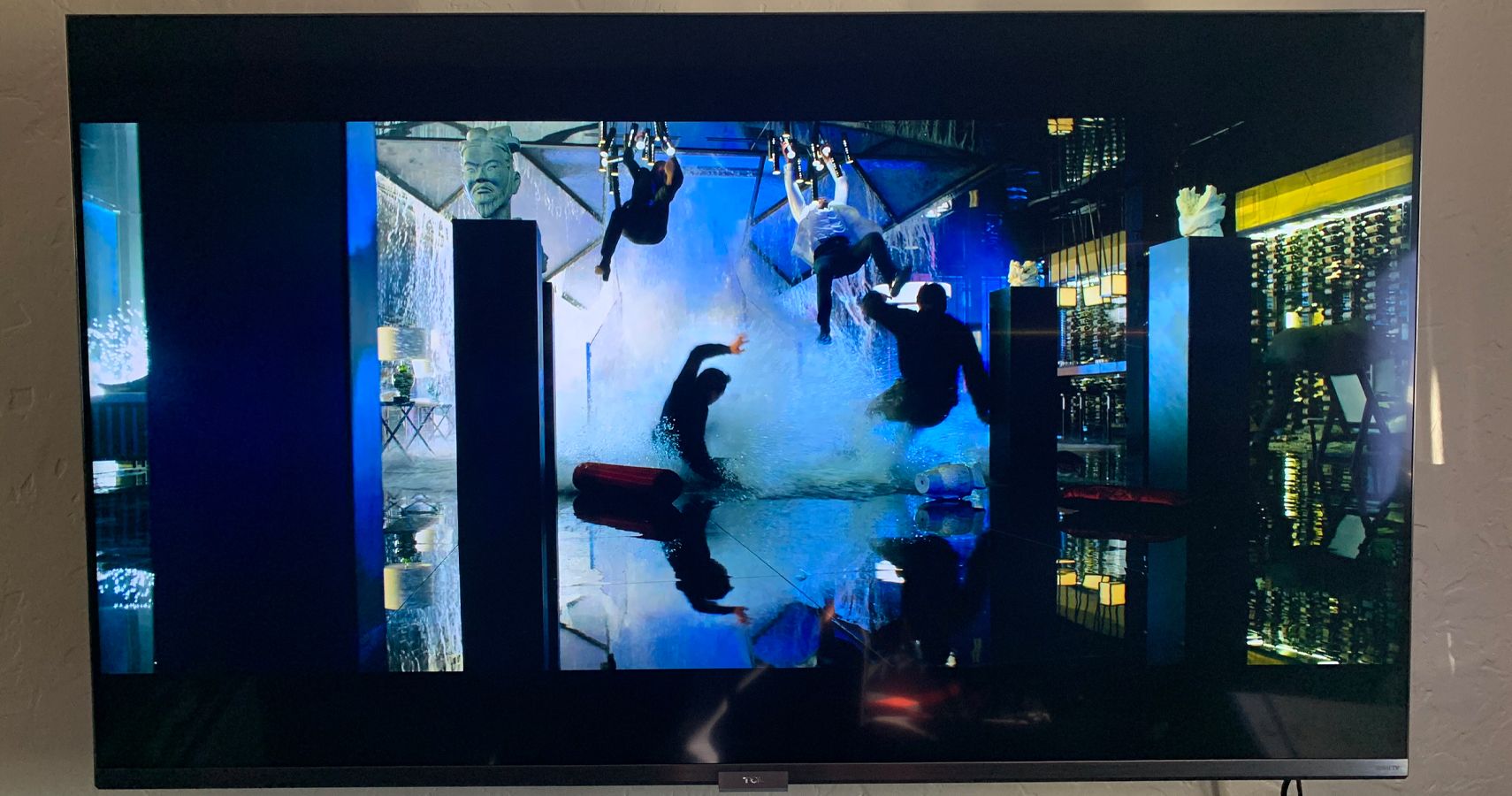 As mentioned, the defining feature of the 2020 TCL 6-Series is that it comes with THX Certified Game Mode, which offers gamers cinematic-level image quality, perfectly balanced picture performance, and a fast-response feel that many video games require. THX – the world-class audio and video certification and technology company – has some of the industry's highest standards when it comes to quality, attaching its name to only the most cutting edge and highest-quality products. Having tested out (and LOVED) the Razer Opus Headphones – which were also created in partnership with THX – I had pretty lofty expectations for the TCL-6 Series, and it delivered on basically all fronts – especially at the price of $649.99.
Incredible Views
The TCL 6-series not only looks great with its borderless frame, it is also lightweight and easy to set up regardless of where you'll be placing the TV. The stand includes legs with a pop-off backing that can actually hide cables to keep your entertainment center clutter-free. The cable management extends to the TV's wall mounting capabilities as well, with mounting being one of the easiest processes I've ever encountered when it comes to wall-mounted televisions.
The guided setup was super simple as well. (Tip: For an even more streamlined setup, have all of the devices that you're planning on using connected to the TV before your initial setup.)
The first thing I did was check out 6 Underground on Netflix. Testing out a TV featuring a THX-worthy cinematic experience with a Michael Bay film seemed like a solid way to go. Quite honestly, I was blown away. Massive explosions, complex lighting, and chaotic, over-the-top action sequences looked absolutely incredible – all of this being the case even before changing any of the default TV settings.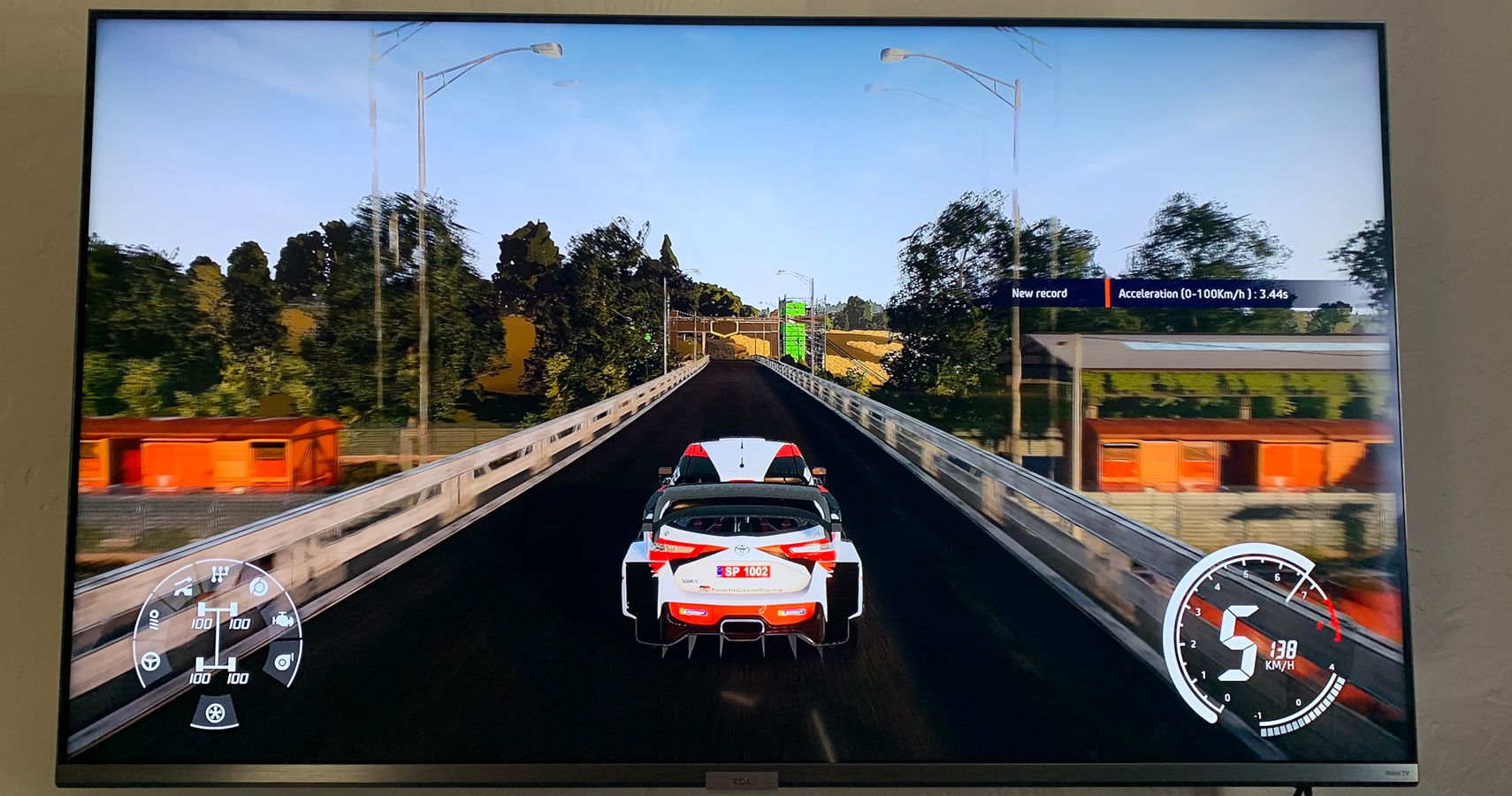 The 6-Series also happened to be delivered at a perfect time for taking in all of the live sporting events taking place at the moment. Watching the NBA Conference Finals (go Nuggets) and first two weeks of NFL action (go Broncos) was a delight. I used the ESPN app to watch NBA games – the 6-Series comes standard as a Roku TV – with the fast-paced action being clear as day and colors as vibrant as I've ever seen from a home television set. For week one of the NFL, I used a digital antenna to watch the games, and even those games looked far crisper than anything I've seen on non-cable, local channels. The TCL 6-Series is clearly a great way to watch movies and TV, no matter how you watch.
PS5 & Xbox Series X-Ready
Of course, I was primarily interested in how gameplay from my PlayStation 4 looked on the TCL 6-Series. I tested a variety of games, which included Madden 21, Rocket League, AVICII Invector, NBA 2K20, and WRC 9, and I couldn't have been more pleased with the results. All of the games looked great on the 55" screen – again, this being before any default changes to the TV were made. Once I turned on the THX Certified Game Mode, though… I was hooked.
Almost every game looked flawless with Game Mode and the TV's Variable Refresh Rate turned on. Madden 21 didn't quite hit the mark, but I put that on the game itself, as it has seen its fair share of post-launch issues. Vehicles and backgrounds in WRC 9 looked gorgeous, especially when dynamic weather impacted the race tracks. NBA 2K20 looked even sharper, with players and on-the-court moves looking even more refined thanks to the 6-Series' contrast capabilities, 4K HDR clarity, and QLED color technology.
The only real issues I've run into so far with the TCL 6-Series is that the LED Motion Clarity option – which is a feature that reduces blur for fast-moving action, such as sports – didn't work with PlayStation 4 gameplay. It actually made games like NBA 2K20 and Rocket League appear blurry. Honestly, though, it's not really a feature that's needed while gaming, since Game Mode and the TV's Variable Refresh Rate do all of the heavy lifting.
The other more concerning issue occurred when simply trying to turn on the TV itself. I could hear the audio from the TV and PlayStation 4, but no picture showed up on the screen. I ended up doing a power cycle (unplugging the power cord from the wall and plugging it back in), which fixed the problem. It's only happened once and, again, isn't a major problem (yet), but it was surprising to have had this issue occur after using the TV for only a week.
Bring On Next-Gen
With its THX Certified Game Mode, the 2020 TCL 6-Series is an incredible feat of engineering that elevates gameplay and movie/TV show watching to an entirely new level. Never before have I played on a TV or monitor with such vibrant colors and clear, crisp video. I'll likely have no problem taking my PlayStation 4 back to my desktop monitor setup once the next-gen consoles make their debut. But you can bet that my PlayStation 5 and Xbox Series X will have a permanent home with my TCL 6-Series.
A 2020 TCL 6-Series was provided to TheGamer for this review and is available now online and at major electronic retailers.
Source: Read Full Article