Like many gamers, I have memories of the Mad Catz controller. I'd ask for a second N64 or GameCube controller for my birthday, only to be given some misshapen thing. As an adult, I understand the gift givers' thought process. Why would someone pay full price for the official controller when they could get the off-brand version for half the price? It still has all of the buttons, right? In fact, the non-official controller even added a Turbo button and that sounds like a cool thing to have.
Mega Modz's recent line of Macro Remap reminds me of the Mad Catz days — only this time the controller is as cool as advertised.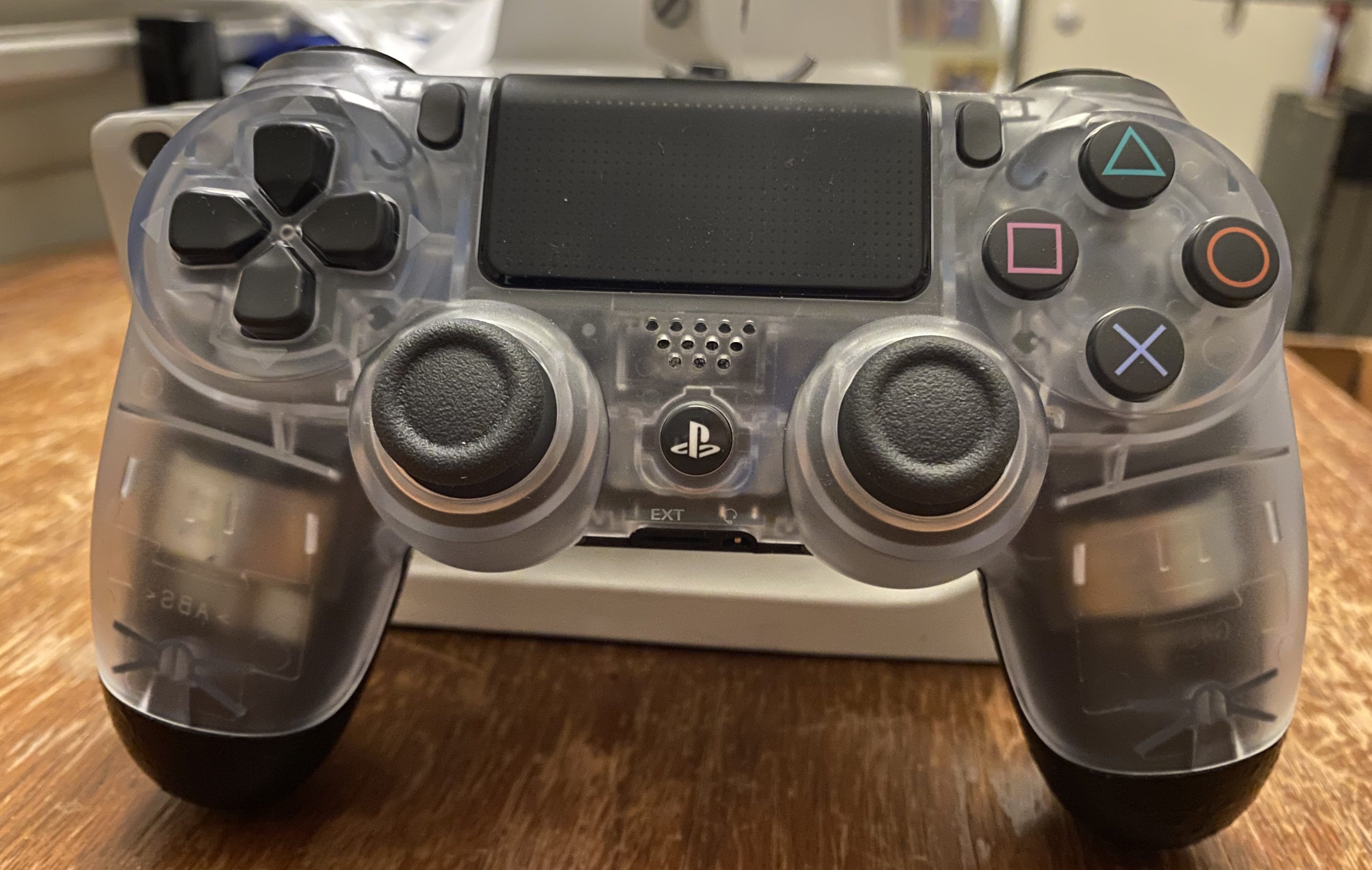 Mega Modz allowed TheGamer to customize a PlayStation 4 controller to review. This was done using the same Mega Modz website tools that any potential buyer can experiment with. I went simple with my design, choosing the "Crystal" controller body. It reminded me of the "Smoke" colored Nintendo 64 my friend had growing up. I always thought the see-through controllers were the coolest thing, but again, Mad Catz for my birthday. Mega Modz uses the official Dualshock 4 as the base for its controllers, so I essentially got the Smoke controller I always wanted.
Anyone else looking to achieve their dream childhood controllers, or get something new, will find some decent options on the Mega Modz site. Body options like Crystal cost an extra $10, and also come in options like camo and gold. There's also selections for rubberized backs and color changes for all of the buttons and thumbsticks. These cost anywhere from $5-$12. Overall, building a nice custom controller comes at a reasonable price. The most expensive option, and the "main event" of this review, is the Macro Remap function at $80.
Automated Button Mashing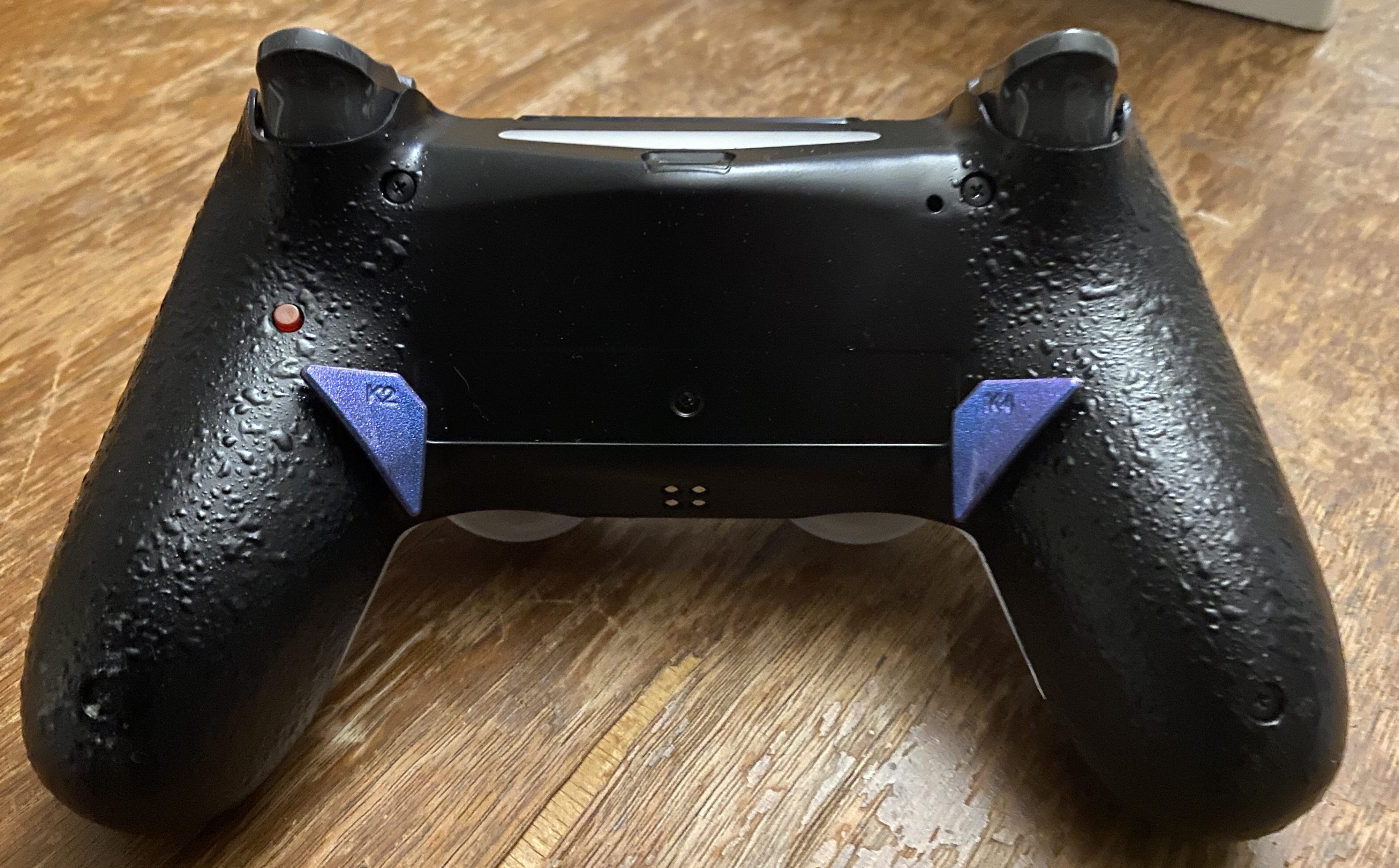 If someone chooses to get a Mega Modz controller with the Macro Remap ability, they'll find two extra buttons on the backside of their controller. These will be located right where the handholds meet the base, where one can easily access them with their middle fingers. The two buttons act much like the Turbo buttons on the controllers of old. They can also be mapped to act like the press of any other button on a PS4 controller. Where it exceeds the old turbo function is in offering several profiles and more types of presses.
Say, for instance, someone picks the Circle button on the PS4 controller. By pressing the little red mod button on the back of the controller, the left macro button, and Circle, they will set the controller to recognize the left macro button as a press of Circle.
A set of four LED lights on the bottom of the controller will flash to indicate a successful reprogramming. That's because there are four available profiles on the Mega Modz Macro Remap controller. Each profile is essentially a saved setting. With four profiles for two buttons, users have quite a few options for customizing their extra button setups. For instance, a setup for racing games and a separate one for fighters. These profiles are very user-friendly, and even a newbie to mod controllers will be setting up button remaps in no time.
However, going back to the example of remapping a button to Circle, there are several options just with that one action. The macro button can be set to a single press, a double press, a triple press, or to just hold the button down. I tested it with Monster Hunter: World. I settled on using one mod button for items and another for attacking. The multi-press was a quick way to make some simple attack combos. In Street Fighter, it helped me hit some of those rapid inputs I have trouble with.
Is That Legal?
Of course, modded controllers like these have a dubious reputation. The Mega Modz site even includes an "Is this considered cheating?" section on its site. Its response is that it aims to simply provide joy to gamers and that turbo controllers have been a thing for a long time. While this is true, I couldn't bring myself to actually use this controller for online play. The potential for cheating felt too high. In fact, a YouTube search revealed videos that had titles like "OVERPOWERED" with a shocked emoji.
I'd personally recommend getting a Mega Modz controller just for the customization. Having a neat new see-through PS4 controller brings me pure and simple joy. The moddable buttons are well positioned and extremely easy to program. So, if you're really into that sort of thing, you won't do better than the Mega Modz Macro Remap. Just please keep the fun offline.
Mega Modz provided a controller to TheGamer for this review. Learn more about the various Mega Modz customizations at Megamodz.com.
Source: Read Full Article